Fall themed close reading passages to teach your primary students how to annotate a text. Your students will love this color-coded method using DOTS!
Close Reading Passages
Close reading is all about reading to uncover the text to deepen comprehension. Students engage with the text and focus on the information the text provides. With these close reading passages, students will dive into the text and learn about some fun Fall topics. Read about how you can use this resource in your classroom!
Close Reading in Kindergarten
In kindergarten, you will read the passage out loud several times. Then, students draw a picture to show what they learned from the text. At this grade level, you can lead students in highlighting, underlining, and circling of the text if you wish. It, of course, depends on your class.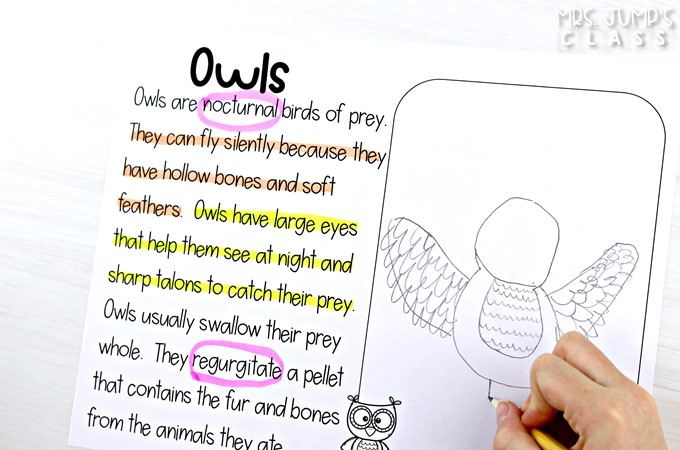 First and Second Grade
Just like in kindergarten, and all close reading passages, you will read the text several times. Since 1st and 2nd graders are a bit more independent you can now allow your students to do some annotating of the text. Here are three options for annotating the text with your students:
Option 1: Allow your students to highlight and circle to annotate the text however they would like. I recommend this option later down the road after you have taught students the basics of annotating a text. If not, you might just have the entire passage highlighted with students who still are unsure of what it was about.
Option 2: Use the color-coded DOTS chart! You provide the guideline but students can still be successfully independent. They love it and so do you!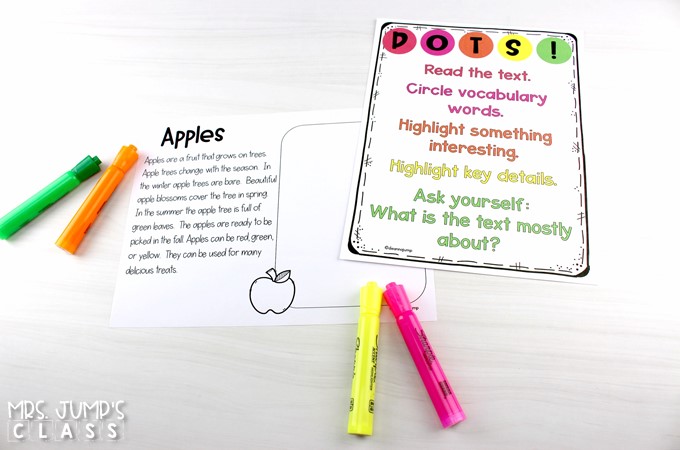 Option 3: Use comprehension questions to guide your students' annotations of the text. This is a great option to start with to help students know what to be looking for and what sort of questions to be asking.
To try out these fun, Fall-themed close reading passages, click below:
For more about close reading, click here: