Lilly's Purple Plastic Purse reading comprehension lesson plans for K-2! This FREEBIE includes 5 lesson plans, complete with student response activities and a craft!
Lilly's Purple Plastic Purse
Lilly loves school and especially loves her teacher, Mr. Slinger. That is until he takes her new purse for being too disruptive. Lilly's feelings about Mr. Slinger quickly change. Use this story to teach a good lesson about having patience and being a good listener. You and your students will love this book!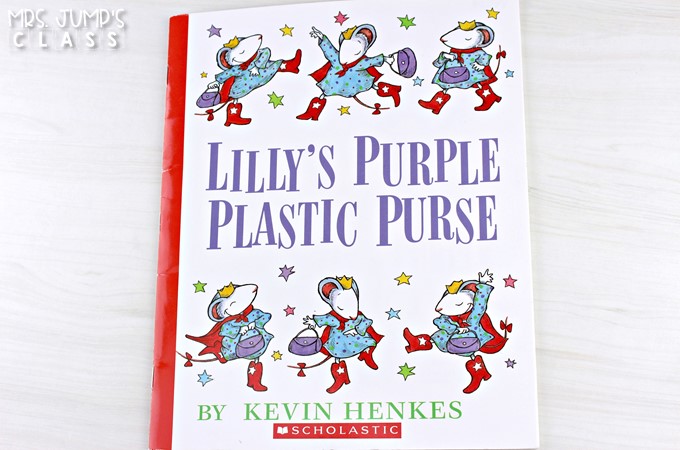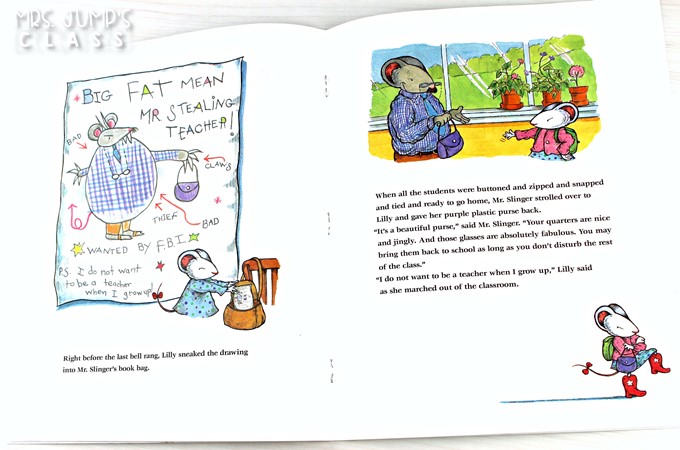 Here is a video by StoryTime at Awnie's House. I love her read-alouds of children's literature!
Reading Lesson Plans
Students develop their reading comprehension throughout our units while learning new vocabulary and strengthening their grammar through the weekly sentence study. Our research-based curriculum is aligned to the CCSS and TEKS. We are so excited to share our newly updated units for K-2 with you! Let's take a look at some skills students will practice with this great book, Lilly's Purple Plastic Purse.
Character Analysis
We teach students to get to know the main character and all other characters so they better understand what they are reading. Using an anchor chart, discuss and show how Lilly changes throughout this story.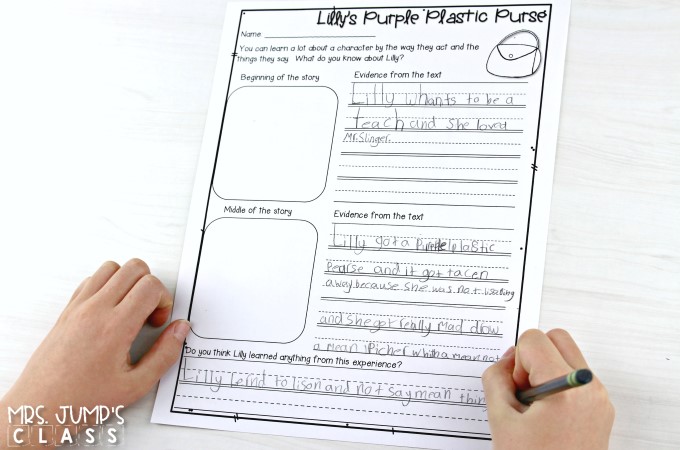 Story Retell
Students retell the story using story cards. This can be done whole-group with the rest of the class or and independently!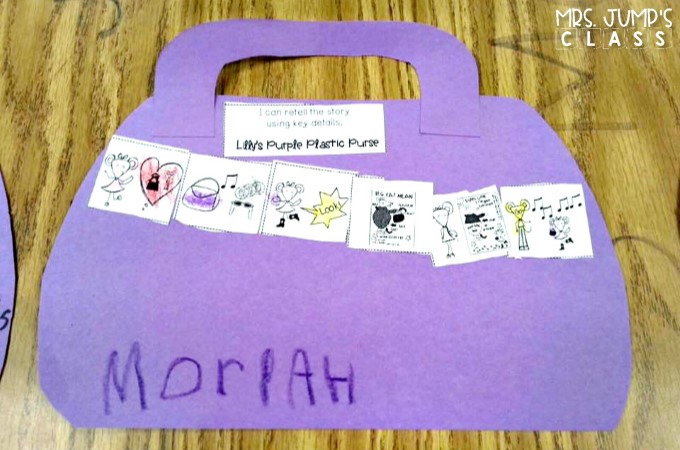 These sweeties did a drawing and story retell inside their journals! So Precious!
Inferring
Students infer when reading the picture book to help them better understand what is happening in the story and why.
Opinion Writing
We often ask students about their favorite part of a book. This is a great practice! This little girl liked when Lilly apologized to the teacher Mr. Slinger. She was REALLY sorry!
Sentence Study and Vocabulary
We include both sentence study and vocabulary for Every. Single. Book! And better yet, we've updated the units to provide individual 5-day lesson plans just for vocab and sentence study/grammar!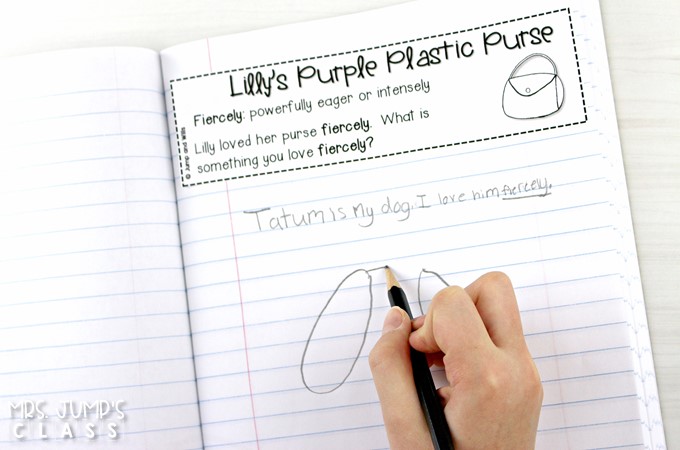 Craft
Oh yes, there is a craft, too!
Science, Math, and More!
Check out our center activities and STEM projects in our companion unit for each month, Engaging Stem. Activities for Lilly's Purple Plastic Purse and all sorts of things can be found here: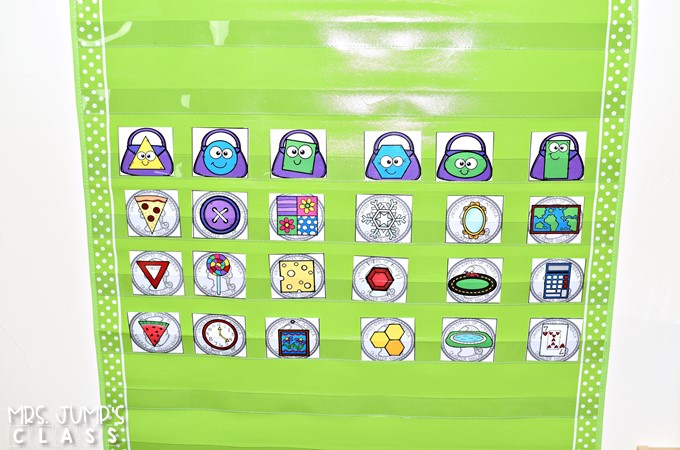 If you love what you've seen in this post, check out these units that are perfect for August and September! All of our Engaging Readers units are aligned for K-2!
Also, check out these blog posts with more great books and lesson plans!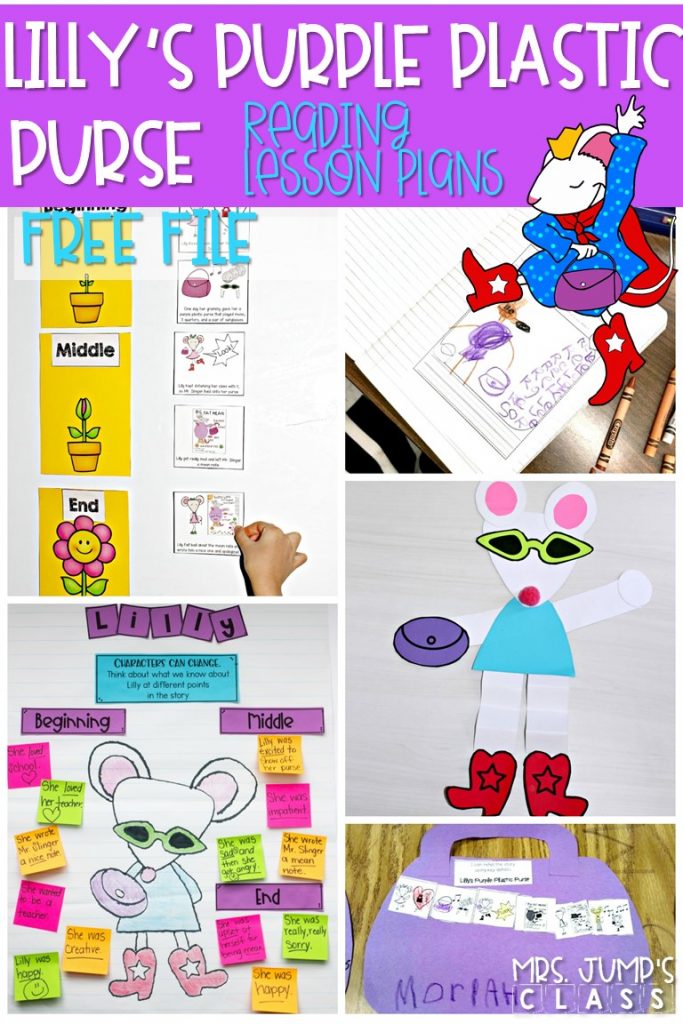 Lilly's Purple Plastic Purse Lesson Plans – FREE FILE!
You can download all of the reading lesson plans for this great story for FREE! Plus, you get additional resources included in our updated curriculum guide. Add your email to the box below and the file will be sent directly to your inbox. Enjoy!