Crazy Hair Day Reading Lesson Ideas for 2nd grade. Reading comprehension strategies and responding to literature with these fun activities.
Crazy Hair Day Reading Lesson Ideas
Your second grade students will love the book, Crazy Hair Day by Barney Saltzberg. We've planned out a five-day lesson plan that follows this book. Through fun activities, students will synthesize, analyze characters, summarize, make connections, and more! Have fun teaching with these Crazy Hair Day Reading Lesson Ideas.
Here is a video of the book read by the author himself.
Synthesizing
In this story, we practice building the big idea of the text and we build information as we read. Here is a great anchor chart to support learning.
Character Analysis
Students get to know the characters in a story by thinking about how they look and what they do and say.
Making Connections
Stanley's classmates helped him not feel alone. Students make connections and write about a time they helped someone. Enjoy a discussion with your class and point out examples of when students were helpful to one another. This could also be a great time for interactive writing. Check out the video below for some tips on interactive writing with your class.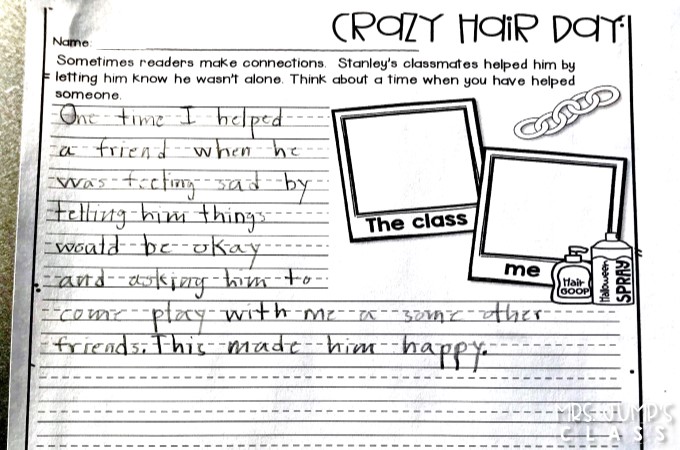 Shades of Meaning/Vocabulary
"Nervous" is one of the vocabulary words talked about throughout the lesson plans. Students act out and discuss how some words have stronger meanings.
Summarizing
By using a framework, students summarize the text they are reading. This framework is taught throughout our Engaging Readers units!
Craft
Students can draw themselves and add crazy hair using watercolors and a straw.
Do you love these Crazy Hair Day Reading Lesson Ideas for second grade? We hope so! Click here for Engaging Readers Second Grade: March. Click below to see more blog posts with great lesson ideas.