The Invisible Boy read aloud. Reading comprehension lesson plans with student response activities. Vocabulary, grammar, sentence study, and a craft, too!
The Invisible Boy Activities
The Invisible Boy, written by Trudy Ludwig, is a touching story about a little boy named Brian. Brian is a quiet student and his classmates don't notice him much. Justin, a new student, is introduced to the class and things seem to turn around for Brian. This is an excellent story to read at any time throughout the school year! Regardless of when you choose to read it, this story is a great reminder for students to make everyone feel welcome.
We've created no-prep lesson plans for this great story! So, all you do is print and teach! Activities are aligned for kindergarten, first, and second grade. Differentiated response options are available, as well. Students practice a variety of reading comprehension skills and strategies throughout the week of lessons and activities.
Making Predictions
Starting on day 1, read the story to your class for the first time. We recommend having a copy of the book to refer to throughout the week, but here is a video if you need it.
After the first read, students practice making predictions about the story. For this lesson, teach students that readers take clues from the text and make a smart guess about what will happen in the story. After students make their predictions, finish reading the story to reveal what happens.
After finishing the book, students respond again and confirm what truly did happen in the story. They like finding out if their prediction was accurate or if they were totally surprised!
Retelling the Story
On day 2, read the story again and focus on retelling. Story retell cards are provided so you can work as a whole class creating a retelling of the story. Once the retell is completed in whole group, students can create their own retell strip.
Differentiated retell cards are available, so this activity is appropriate for kindergarten through second grade.
This second-grade class used both retell strips with pictures and words for their independent retell.
Inferring
With the inferring lesson plan, we teach students that readers infer to help them understand what is happening in a book. This is a great time to talk about what the author and illustrator do to help make the meaning clear. This picture shows the reading response prompt in a journal. This is an option if you want to save paper and/or keep the reading responses together throughout the year.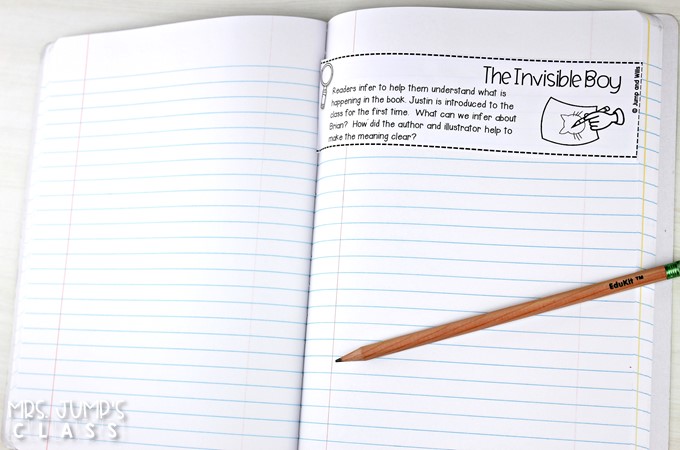 If you want to provide extra support during this lesson, you could model through interactive writing. Check out this video for tips:
Making Connections
Sometimes readers make connections when they read. This is something we often ask students to think about. "What connection did you make with this story?" After reading The Invisible Boy, we ask students to think of some ways they could help an "invisible" child be seen? Add this reading response to the craft for the perfect hallway or classroom display!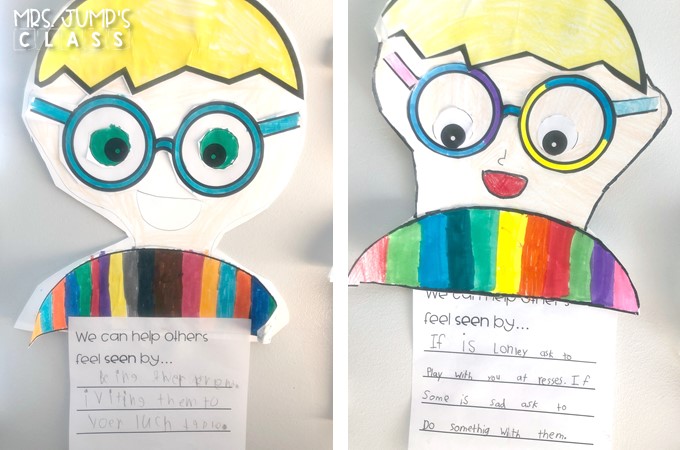 Have fun teaching with these engaging lesson plans and activities. Click here for all the resources you need for The Invisible Boy activities:
You can also check out the lesson plans for this story AND three other great titles here:
Click below to read about additional Engaging Readers texts and lesson plans: