A Creepy Pair of Underwear is Aaron Reynold's new book, and I am so excited!
Jasper, the rabbit, is back in this story and this time his creepy underwear is scaring him.  Just look at these illustrations!
Guiding Readers = Close Reading
As soon as I saw this book, I knew we were going to have to make another Guiding Readers unit for it.  Don't worry! We have it all planned out for you.  We have included book questions, just like we did in our Three Bears Unit and our Little Red Hen Unit.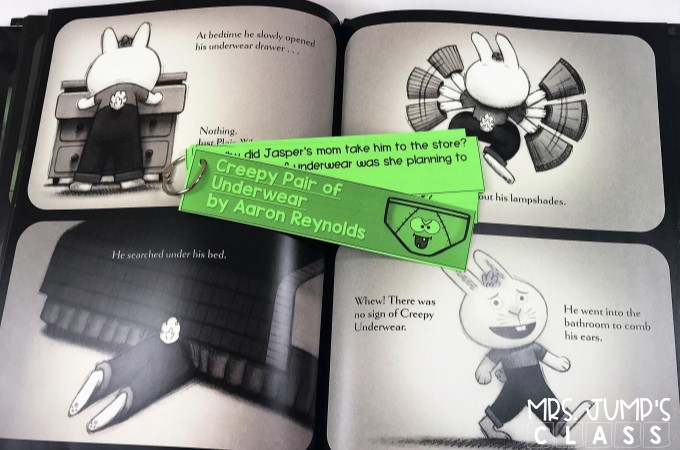 As you know, our Guiding Readers curriculum follows a whole group close reading structure.  Each day we read the book for a different purpose.  For this unit, we will be focusing on:
Predictions
Retelling the story with text details
Connections
Character analysis
Opinion writing
Vocabulary
Just like our monthly units, we a rubric to guide your students' progress.
You can find our monthly units HERE and HERE.
If you loved Creepy Carrots, you can see my blog post on this book by clicking HERE.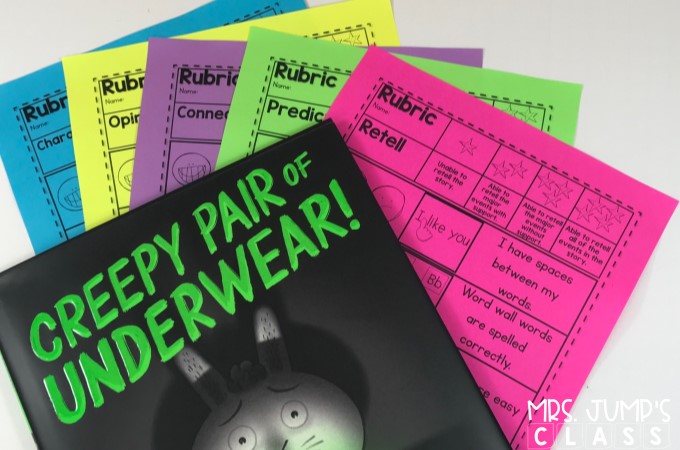 Retelling with Text Details
The students will work together to put the retell pieces in order in the pocket chart.  Then, they will create their own retelling project so that they can share this adorable story with their family. The illustrations in this unit are so precious; we couldn't resist adding a pair of creepy underwear.  The students choose which pair of creepy underwear they want and then they glue their retelling pieces to the pack.   SO stinkin' cute!! (Did you see what I did there? Ha!)
Making Connections
This is the perfect story for making connections.  At first, Jasper was afraid of his creepy underwear. What is something you used to be afraid of?  The response sheets have two different options for recording their thinking. You can choose the whole sheet option or the option that has multiple sheets to a page for journals.  These units are differentiated so that they can be used for both kindergarten and first-grade students.  At this time of year, we expect kindergarten students to convey their thinking through drawing pictures and labeling, while first-graders are writing multiple sentences.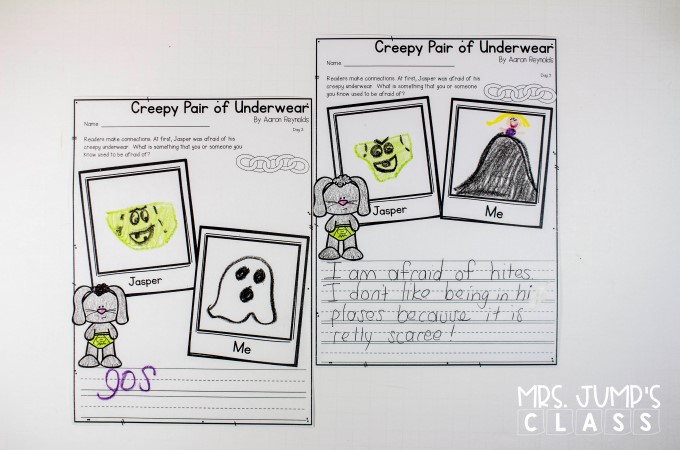 A Creepy Pair of Underwear Anchor Charts
We talked about how a character's feelings can change.  Jasper went from loving the creepy underwear so much that he pleaded with his mom to buy them, to being scared of them, to loving them again.  We talked about how his feelings about the underwear changed and cited evidence from the text to support our answers.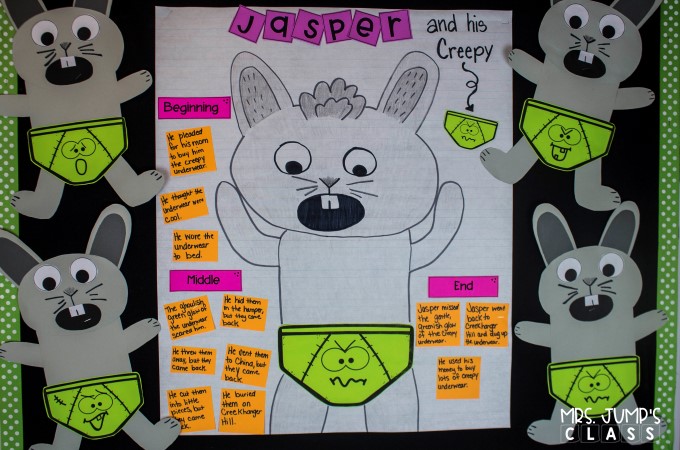 There you have it!  Can you tell how much I love this book?  If you want to check out the unit you can click, HERE