Teacher read alouds are just as important as giving students time to read independently. Read alouds take the student's focus away from having to decode the words and gives students a chance to really hone in and focus on the meaning of the story.
I love it when I read a story to children, and they love it so much that they beg me to READ IT AGAIN!
It's so important to reread books to children and give them time to:
Hear you thinking aloud as you try to make sense of the story.
Fall in love with the characters and get to know them.
Think deeply about the story and discuss it with their peers.
Respond to reading through writing and drawing.
In our Engaging Readers units, we've developed a reading program that does all of the above!
Making Predictions
We read part of the story and then stop to give them a chance to predict what they think will happen next.
In kindergarten, most of the meaning will come through drawing this early in the year.
This little sweetie thinks that the carrots will get stuck in a pit.
So she drew a picture and wrote the word, pit.
These are differentiated so that the students who are ready for more can do more.
Her prediction says The Creepy Carrots will get stuck in the pit.
This version then asks them to write about what happened in the text.
She wrote, The Creepy Carrots are locked in the fence.
Retelling
On Day 2 we read the story again and focus on retelling.
We work together to complete the retelling and then the kids do it independently.
Opinion Writing
On another day, we wrote about our favorite part of the story.
Upper left, I like the part when they were creeping at the grave.
Upper right, Jasper "loved to eat carrots."
Lower left, When he gets scared.
Lower right, I like creepy carrots when they suddenly reappear.
Making Connections
Depending on the story, we work on inferencing, comparing and contrasting, or making connections.
Creepy Carrots is the perfect story for working on making connections because we've all been scared at one point or another. We know that some of our boys will say, I've never been afraid. (yeah, right. Weren't you the one hiding behind me last week when there was a spider in the room? haha!) We worded our question with that thought in mind.
The paper says Readers make connections. In our story, Jasper was really afraid of the creepy carrots. Write about a time when you or someone you know was afraid.
Upper left, I was scared of ???? (bonus points for you if you can figure it out!)
Upper right, I have been in a tornado. It was scary!
Lower left, My mom is afraid of heights.
Notice that the one on the right looks totally different. We wanted to also provide a solution for those of you who are limited on copies. These are made to fit in a composition or spiral notebook.
The writing on this page says I was afraid of the Tower of Terror.
We are so proud of these units!!!
Giving students the opportunity to respond in writing makes their thinking visible.
Cause and Effect
This is also a great story to use for working on Cause & Effect.
A few tips!
Show your students how to draw the characters in the story using simple shapes.
Please, I'm begging you…Don't spell for your students and don't correct their spelling.
It isn't necessary to read the book EVERY day! We use the same book for five days.
However, we usually only read the book all the way through on Monday and Tuesday.
Each day we focus on the page in the story that correlates with the comprehension strategy we are working on.
Phonics and Interactive Writing
What about phonics skills? When do you work on those?
Click on the links below to view the units on Teachers Pay Teachers
**the Phonics lessons aren't included in the individual units.
STEM and Centers
Looking for more activities like Stem and Centers to use with the books? Yes! We have you covered in our Engaging Readers Science Math and More units.
Our STEM challenge was to build a trap for the carrot and analyze the trap.
We also have two math and literacy centers. This is great for multiple grades or when you need differentiation.
The same is true for the easy printable tasks (2 levels in ELA and Math).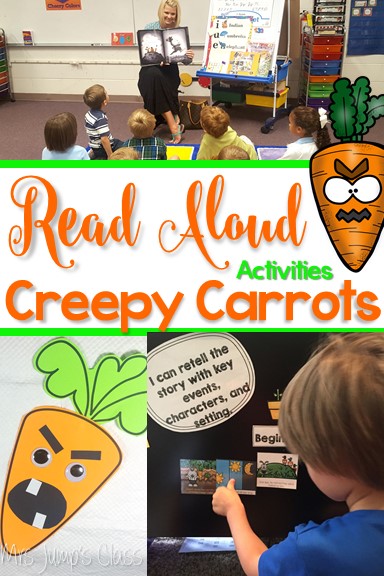 SaveSave