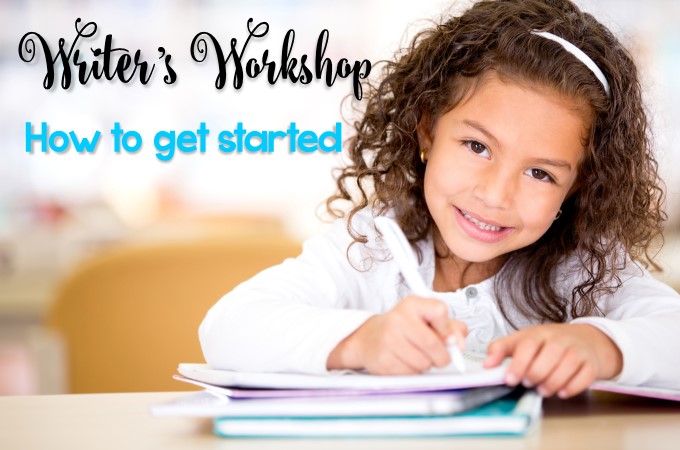 Do you struggle with how to get started? Writer's Workshop in kindergarten and first grade classrooms is one of the most powerful components.
In Writing Workshop in kindergarten and first grade, students are encoding words that come from their thoughts and feelings, which is a much easier skill than decoding. Successful writers become successful readers!
So, how do you get started? The answer is simple. Just jump right in!! I usually start at the beginning of the second week of school. I don't wait until students know a certain number of letters and sounds because I'm not really expecting them to write, Yet! Our first unit is all about being illustrators and helping students understand that our pictures tell a story. Think about all of the wonderful wordless picture books that you've "read." Were you able to make meaning from them? Absolutely!!! Starting off with drawing pictures and orally telling the story sets students up for success and they all start realizing, HEY!! I'm an author!
What is Writer's Workshop in Kindergarten?
Writer's Workshop is a daily part of your schedule, and it follows a consistent routine.
Minilesson
During the minilesson, the teacher is modeling what good writers do as she draws her picture and writes the words. During this first unit, the main emphasis is on drawing our pictures. However, we do start labeling our pictures and stretching out words by writing the sounds we hear as well. The idea is that we are meeting the needs of ALL of our learners. We have some who will only be able to draw pictures, some who will draw and label, and some students who are also ready to write sentences. We celebrate our students right where they are! Note: First grade will look a little bit different, and I'll get to that as well. So if you teach first grade, don't leave. This post is for you as well.
Independent Writing Time
After the minilesson, we send our students off to write. In the beginning, we are working on building our writing stamina so the independent writing time may only last a few minutes.
But, that's okay! Your little authors will have time to write every day, so if they don't finish their writing, they can pick right back up where they left off.
Here are a few kindergarten examples from our first writing lesson.
The one on the left says, I am happy because I am five years old. Zoey came to my birthday party. Do you see how she added in labels? She has the Y to label herself and a Z for Zoey.
She also has a B for birthday and lots of 5s to represent her birthday. During the conferring time (which I'll explain in a few minutes) I asked her what the writing to the left of her meant.
She said, "I'm 200% happy!!!" Mind.blown. I love it!! Look at the story on the right. Can you tell what this one is about? If you are from Florida, I'll bet you got it right away! The beach!
This story is about going to the beach. She said, "I went to the beach with my family. We went boogie boarding." Notice that she has labels to label herself and one of the other people in the picture. She also has sand, a palm tree, and three lounge chairs. Two of the people are holding boogie boards, and one is holding a towel. So many details in her picture! Neither of these students added words, but they are already successful writers. Words will come later. We celebrate where they are.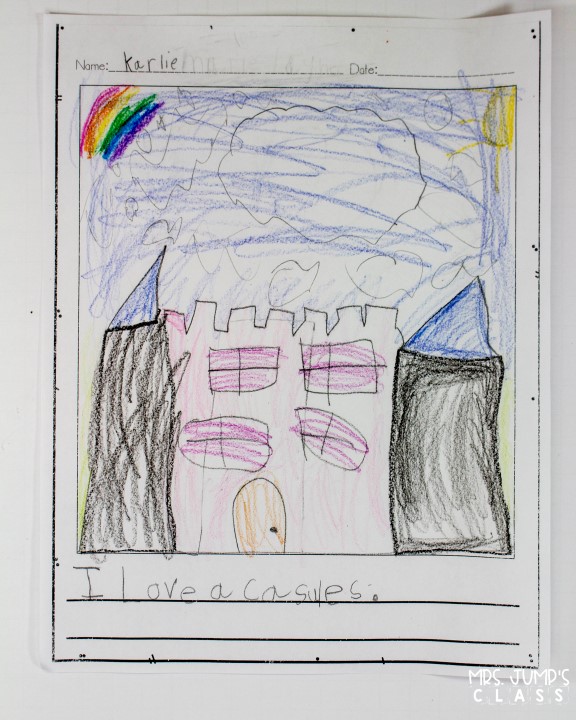 Here are two more kindergarten samples from day one. The one on the left reads, I love castles. She drew a castle with lots of details, and she was able to spell love conventionally.
She stretched out the sounds she heard and castle and wrote the letters those sounds represented. The one on the right reads, I like my animals. She also labeled all of her animals with the beginning sound in each of their names. This is WHY we don't just draw a picture in our minilesson and stop. We want to meet the needs of all our kids, so it's important also to model how to write words by recording the sounds we hear. If we had ONLY drawn pictures, then chances are Karlie and Elise would have also ONLY drawn pictures. Celebrate them where they are, but don't hold them back with low expectations.
IMPORTANT
The most important thing to notice here is that all of these stories are about different topics. That is because we don't give students a topic or a writing prompt. We want them to see themselves as real authors. They choose their topics. I love this quote from Shelly Harwayne, "We want children to notice, pay attention, marvel, and be fascinated with the world around them, both in school and outside of school. We also want them to appreciate that what captures their hearts, tickles their senses, and fills their minds, belongs in their writing." If children are given choice about what they are writing about, they will be a lot more excited about writing. As they experience new things or go new places, they will begin to think, "Hey, I can write about that!"
Conferring
While students are writing, I'm conferring with them. This gives me an opportunity to hear first-hand what they are thinking about as they write and help nudge them toward that next step in writing. I meet with a few students each day. When I go to them I always start with, What are you working on as a writer today? I listen closely to what the students tell me, and I look closely at their writing. Then, I notice and name what I see them doing well. I celebrate them and work on building that self-confidence. I think about what they need to work on, and I might say something like, "Can I show something else that writers do?" That's the intro to my teach portion of the conference where I teach them something quick that will help make their writing even better. For example, I might talk to them about adding details to their drawings. We would have a conversation about what they could add and then I would encourage them to add the details. I then end with, "Today and every day when you are writing remember that you can add details to help make your story even better."
Above is a picture of my conferring notebook. I use two notebooks because I have a section for each student in my class. The first half of the alphabet is in this notebook and the second half is in the other. I section off about ten pages per student so that I have plenty of room to write notes each time I confer with my students. These notes are great when it comes time for parent-teacher conferences.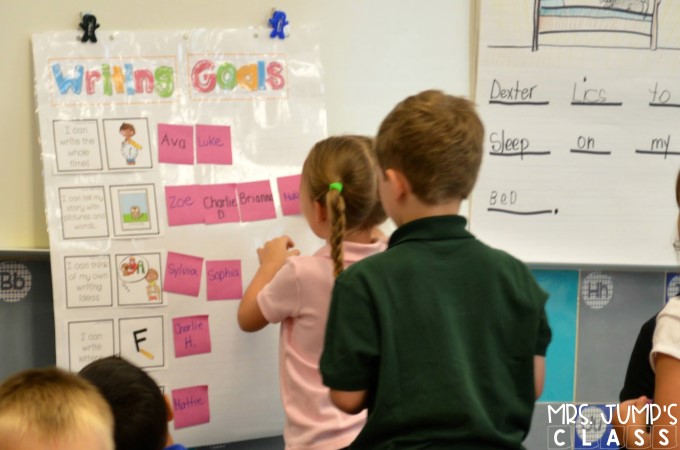 During the conference time, we talk about what they are doing well and we set a goal for something that they can work on to help them become an EVEN better writer. Each of our writing units has its own Writing Goals chart.
Writer's Workshop in Kindergarten: Sharing Time
This is the third part of our Writer's Workshop, and it is so important. Writers write stories so that they can be shared. During this 5 minute block of time, our Peanut Butter & Jelly partners get together and share their stories with each other. After we've shared with our partners, I also choose one or two students to share their writing with the whole class.
So, there you have it! That is the structure of our Writer's Workshop in kindergarten. This has always been the favorite part of my students day, and it's part of mine as well. I love reading and listening to their stories, and it gives me a window into their world. Little ones have a lot to say in their writing, and we need to give them that time and freedom of choice to express themselves.
Hey, What about Writer's Workshop in First-Grade?
Don't worry; I didn't forget about you. In fact, as you've probably noticed all of the above fits you perfectly. First grade follows the same structure; our expectations are just a little different. We know that most of them are already able to put their thinking into words on the paper. The mini-lesson is still the same, but we emphasize the writing of sentences more than we do in kindergarten. Kindergarten writing paper just has a few lines, while the first-grade paper has many. Here are a few examples from the same first lesson in Writer's Workshop in first grade.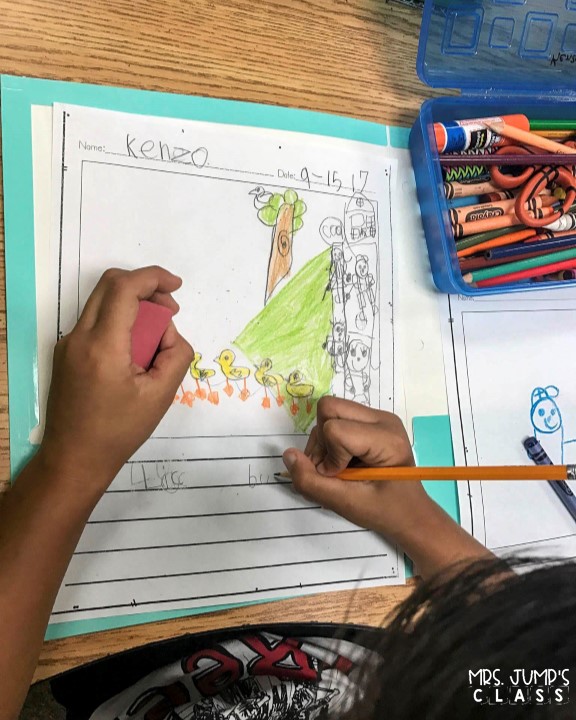 The writing on the left reads, It's my birthday. This morning I got four things, a Pokeball, and a Pokemon hose, and Tom Toms. After school, I am getting more gifts.
Notice that she has a great picture, but she spent most of her time on writing the words.
The picture on the left reads, My dog is under the counter and my other dog is in the bathtub.
A great teaching point for conferring with these students would be, adding punctuation to help the reader be able to read their story more easily.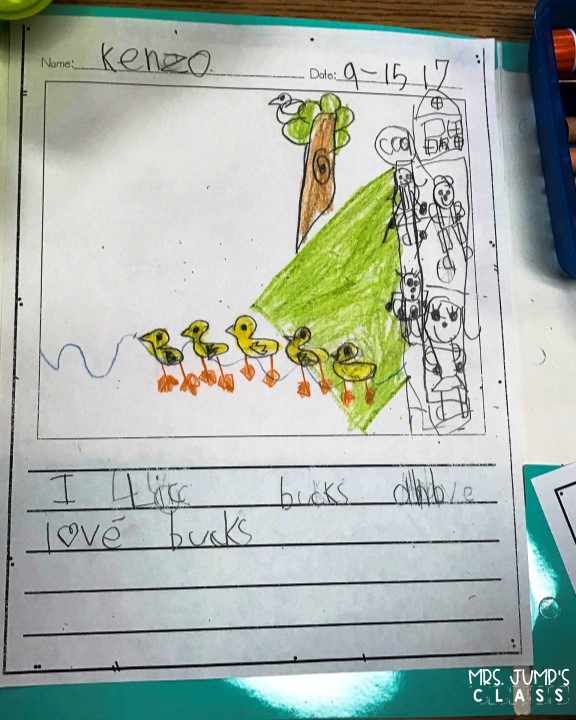 This student did a beautiful job on her illustrations, and there is so much detail! A mother duck lives in her neighborhood and it just had ducklings.
Her writing reads, I like ducks and I love ducks. All students come to us with a variety of strengths and weaknesses. Writer's Workshop in kindergarten and first grade is a time for us to celebrate that!
Know your students and teach them where they are. In just a matter of time, they will exceed your expectations because YOU are giving them the freedom to write about things they want to write about.
Writing Units
If you are ready to give Writer's Workshop in kindergarten and first grade a try, but you just aren't sure where to start don't worry we've got you covered. Deedee Wills and I created Writing units about six years ago, and we have both used them with great success in both kindergarten and first-grade. Here's what's included in every writing unit.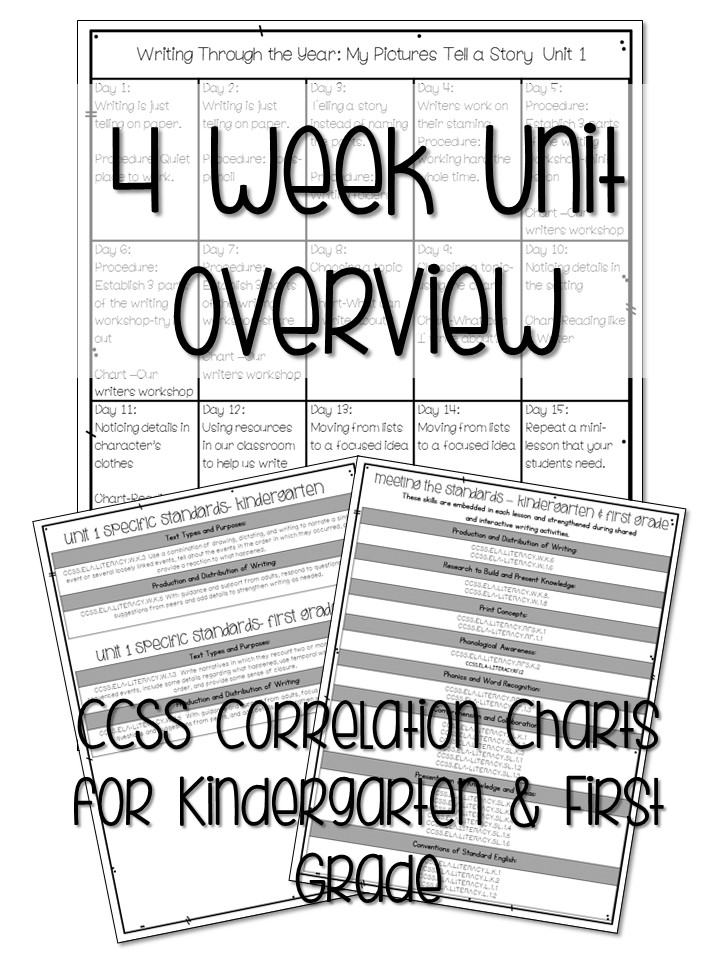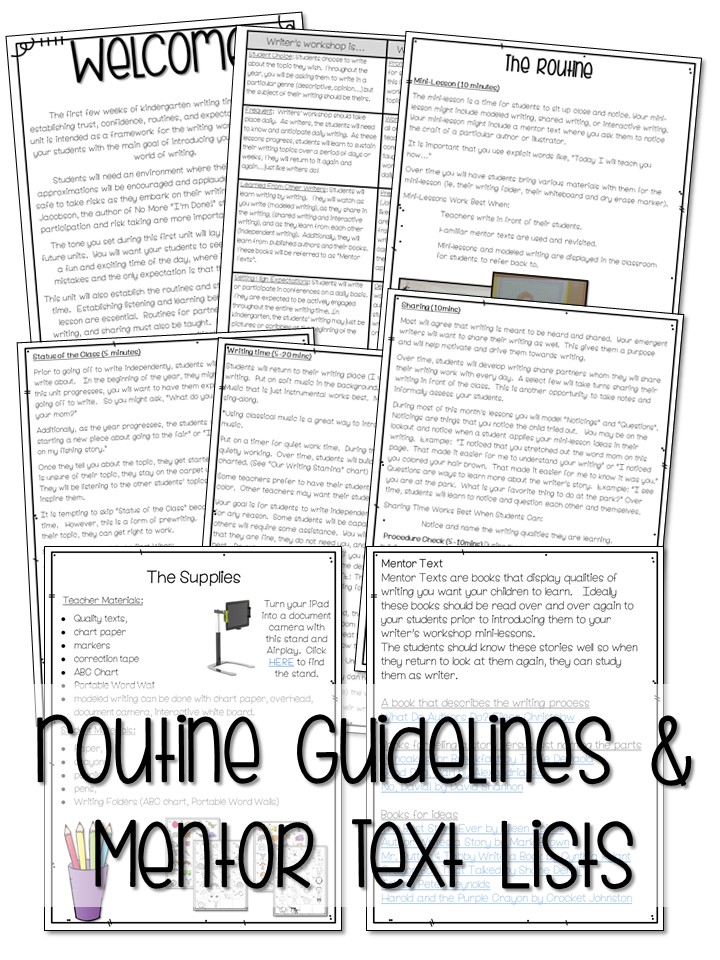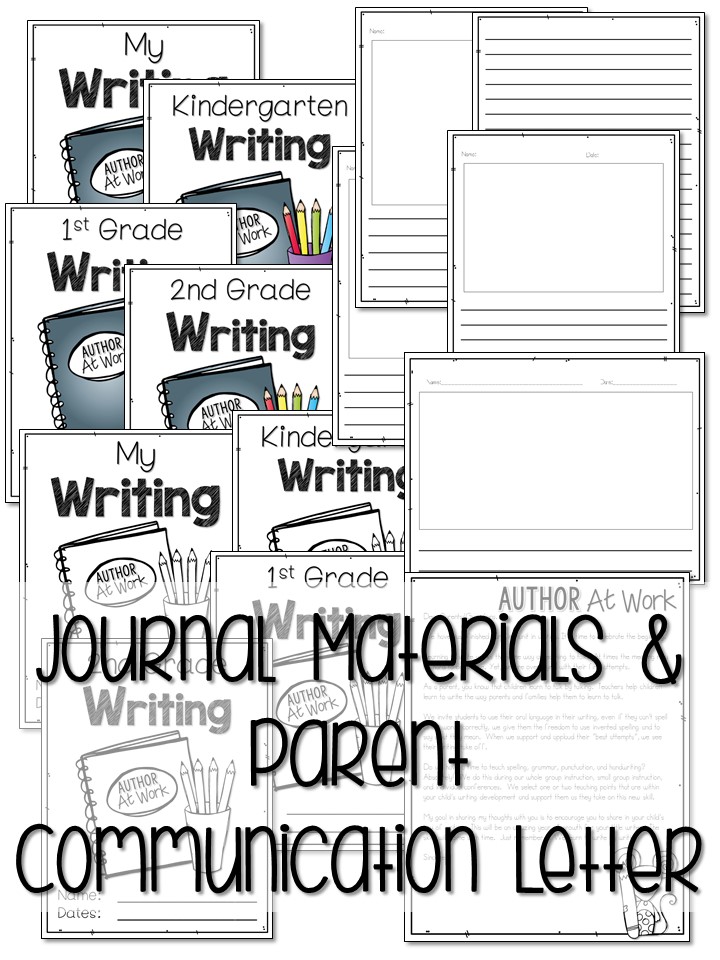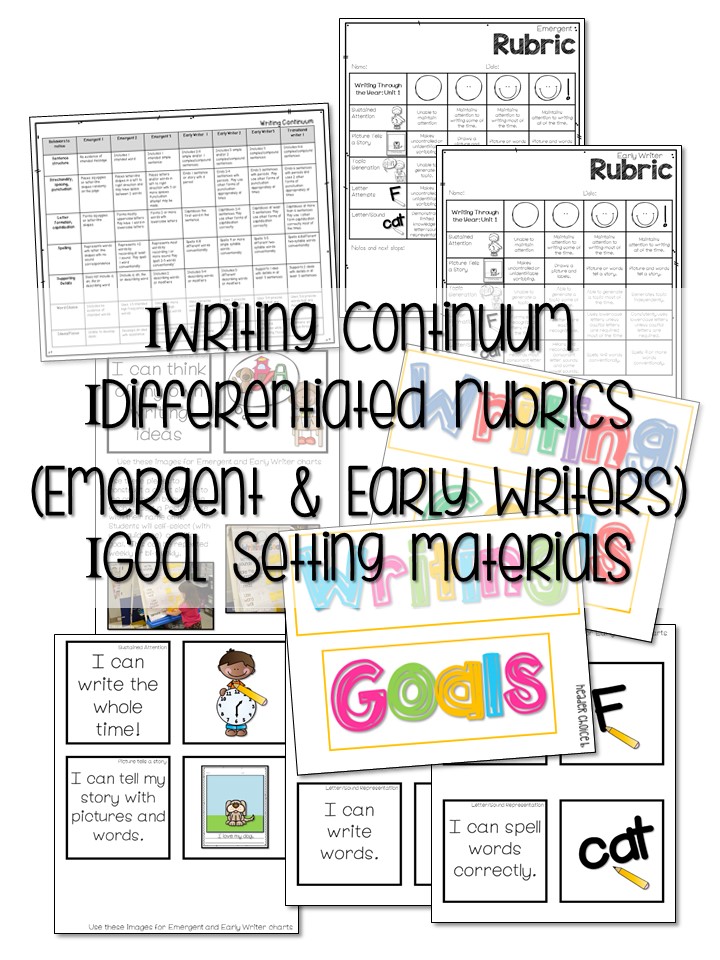 You can check out Unit 1 to read the reviews and see what others are saying. Just click on the image below and it will take you to the resource. These are also included in a money-saving bundle if you prefer that option.
Thank you so much for reading this post. Happy Writing!!