Alphabet recognition and fluency activities. Fun activities and ideas to help your students master letter identification and sound during whole group, small group, and centers!
Alphabet Recognition & Sound
Alphabet recognition practice starts on day 1 of kindergarten and it consumes a lot of our time during the first several weeks of school. It is our focus because it is essential. With a strong foundation in letter recognition, students have an easier time learning the sounds associated with the letters. Once students learn about letter identification and sound, they then begin using letters to write words.
We want students to have automatic letter recognition so they can fully focus on sound-spelling relationships.
"Children learn the alphabet best through the active exploration of the relationships between letter names, the sounds of the letter names, their visual characteristics, and the motor movement involved in their formation"(Phonics from A to Z). So, what are some ways to solidify letter recognition and sounds within your students?
Alphabet Books
There are so many great reasons to use alphabet books in your classroom! They help students learn letter sequence, associate a letter with a sound, build vocabulary, support oral language development, and so much more!
Here are some suggestions on how to use alphabet books as part of your weekly instruction from Phonics A to Z by Wiley Blevins.
Read the book first and let students enjoy the language and illustrations.
With your second read, discuss objects in the illustrations that match the represented letter.
Create letter charts and have students identify words and pictures.
Have students create their own alphabet books.
You can even use printed alphabet books that students color and read! These books match with the poems you'll see below.
Direct Instruction
Introduce the letter and have fun creating crafts, reading poems, and other engaging activities.
For just the poems and emergent reader alphabet books, click here:
After whole-group instruction, provide additional support in your small groups.
Center Activities
Students practice letter recognition and fine motor skills with these fun centers.
In this Race to Trace game, students spin the spinner or roll a cube to determine which letter to trace (uppercase or lowercase). It is fun to see which column wins!
Click below for all of the alphabet recognition activities and centers:
Songs & Videos
Here are a couple of videos for alphabet recognition and sound.

This one is the ABC song sung by Blippi!
Alphabet Fluency
Accuracy and speed are both critical factors in alphabet recognition. These two aspects indicate how well students have learned the letters' identities. Assess alphabet fluency with these print and go assessments! You could also make these cards available for extra practice during centers or for early finishers!
After a strong foundation in alphabet recognition and sound, students are ready to identify beginning sounds.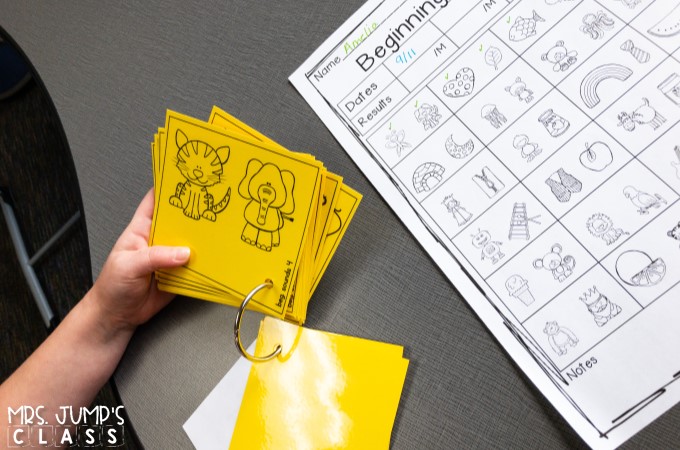 These letter and sound cards can be found here:
Here is a good video to practice automaticity in the classroom. It gives 4 seconds for each letter. You could have your students say the letter and give the sound!
Here is another blog post with fun playdough learning activities:
Free File
Please enter your email in the box below to grab your free file!