Winter Games Lesson Plans for kindergarten and first grade. These are perfect to use during the Winter Olympics.
Tacky and the Winter Games
Don't you just love Tacky the Penguin?  My class has always enjoyed this character, so when I saw Helen Lester's book, Tacky and the Winter Games, I knew I had to add it to our Engaging Readers Series.
The version of the Engaging Readers one comes with 5 days of close reading comprehension activities:
Visualization
Retelling
Connections
Inferring
Opinion Writing
Each day's lesson plan is planned for you!  Horray!  You can stay up late watching the Olympics, then just print these lessons out and you can feel confident that you will have a meaningful lesson ready for your kiddos.
This unit comes with  8 sequential retelling cards.  This is such a great way to support your students with recalling text details.  In kindergarten, the teacher is doing the decoding work and the students are doing the thinking work.  However, as student progress in their reading ability (first or second grade), students could take on the decoding work AND the thinking work.
Tacky and the Winter Games Craft
You can have your students create this craft as an individual activity… or…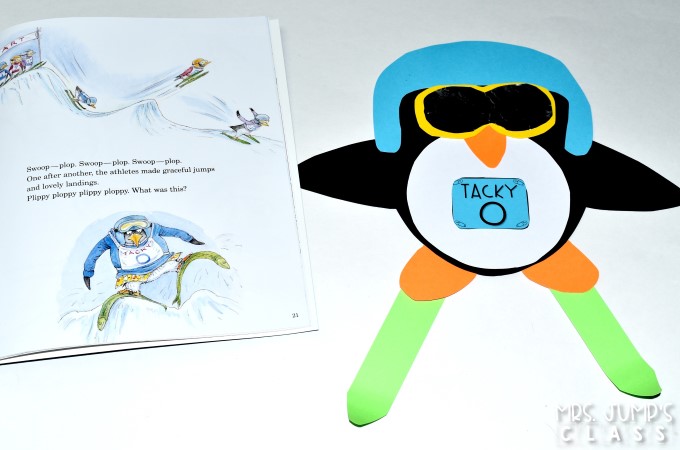 combine it with the sentence study you can see in this next picture.
If you are looking for a few more winter books, you may be interested in reading:
FREE File
You can download the directed drawing for Tacky by entering your email in the box below.