January is such a fun time!  Some of my favorite activities center around January themes!
Several years ago my friend Deedee Wills and I sat down and discussed some of our favorite January read alouds.  Deedee mentioned that she felt as if she was skimming the surface with her read aloud and that she was looking for ways to make her instruction more intentional.  She felt like she was bouncing from one idea to another and not going deep enough.  Does this sound like you?
What we came up with was Guiding Readers.  This transformed her classroom!   Now 2 years later, I'm reaping the benefits of these units that we created in my own classroom.  We also love hearing how other classrooms were transformed.   Listen to this sweet feedback:
"I used one of [your] lessons for my observation a few weeks ago and scored the highest possible rating you can get in my state. My principal LOVED it. I normally do these units, so my kids really rocked it. Thank YOU! You have totally changed my classroom. Teaching is fun again, and my kids are exceeding my expectations!!!!"
When asked if we could share her testimonial, this is now she responded:
"Absolutely yes! And use my whole name if you want to! I feel very strongly about the quality of your reading units! They ROCK! They really can change the way you teach. My biggest eye opener was that my students are capable of so much more then I gave them credit for. They know what an inference is. They can use a Venn diagram. Of course, there are varying levels of readiness, but the presentation of your reading units allow for differentiation. They really move kids along! And did I mention the fun? Thank you again!"
Thank you, Betsy Walsh, for making our day!
A glimpse inside
Each week we focus on one read aloud, and we read it multiple times.  Each day we focus on a different reading comprehension strategy as we peel back the text and go deeper.
For Tacky the Penguin, we start the week with making predictions.
On the second day, we work on recalling text details and retelling the story.  Students work together to put the story in the correct order.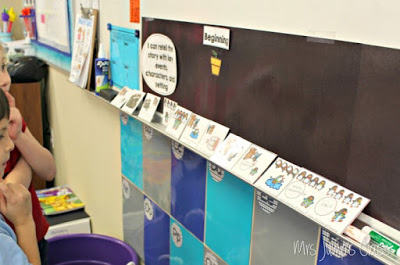 Once the story is in the correct order, the students practice retelling the story orally with their partner.  They can use the class display to support them if necessary.    Then students create their own retelling strip!
We also work on unpacking the vocabulary of the text.  This was the word companion.
With this book, we worked on making connections (plus a cute craft).
We infer!
And naturally, we offer our opinions!
Click for more information on the Tacky the Penguin Unit.
Want to try an interactive unit for FREE?
We created a free version of our Guiding Readers for the book The Mitten by Jan Brett.  You can grab your copy by looking at the end of this post.
You can find all of our Guiding Readers resources by clicking
HERE.
Ready to try out the free unit?   Just add your email in the box below and it will be sent directly to your inbox!  SIMPLE!