Phonological and Phonemic awareness videos for kindergarten. Syllables, CVC words, vowels, digraphs, and more! Fun and engaging videos for your classroom!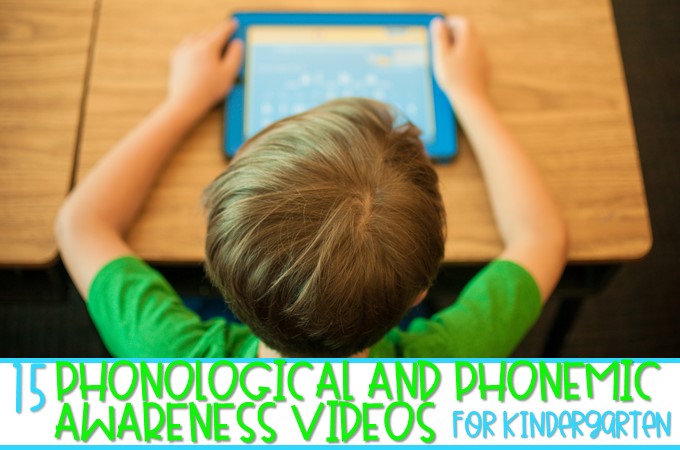 Phonological & Phonemic Awareness Videos
15 fun videos your kindergarten students will love! These phonological and phonemic awareness videos make great "attention-getters" when you're teaching a new skill. They are also perfect for a quick movement break throughout your day that supports learning!
#1 The Big Pig Song: Rhyming
Catchy rhyming song that'll be stuck in your head for days!
#2 Party in the Jungle: Jack Hartmann
Fun phonemic awareness song for students to hear sound patterns in language.
#3 What Letter Is It: Jack Hartmann
Students exercise and give the letter name for each sound that is given.
#4 Let's Make Words: Kids Academy
Students learn they can rearrange sounds to make words. This would be a great introduction to CVC words. It would be fun to continue making words with an engaging activity after the video.
#5 Syllables: Scratch Garden
Good video for an introduction to syllables. Students practice clapping each "beat" in the words.
#6 Open and Closed Syllables: Kids Academy
Students find out a little more about syllables by learning the first two types of syllabication.
#7 What is a Blend: Jack Hartmann
An upbeat video about beginning"r" blends.
#8 What is a Blend: Kids Academy
Another blend video, but "l" blends this time!
#9 Vowel Bat: Shari Sloane
Vowel Bat is such a fun song to play when you're learning about vowels.
#10 Long and Short Vowels: Kids Academy
More about vowels!
#11 Workout to the Letter Sounds: Jack Hartmann
This is version 2 to video #3. Another great video to exercise and practice letter sounds!
#12 Let's Make a Change: Move to Learn
A fun, movement-filled video where students practice phoneme substitution.
#13 Stretchy the Word Snake: Jack Hartmann
Students sing along and practice segmenting and blending words.
#14 I want to Rhyme: Move to Learn
A fun rhyming song with movement!
#15 Digraphs: Jack Hartmann
A great introduction to beginning digraphs.
Would you like some resources for teaching phonological and phonemic awareness? Here are some blog posts to get you started:
How about a daily program to teach phonological and phonemic awareness in about 10 minutes per day? Click below for my phonological awareness curriculum.