Hands-On Inference lesson where students become inference detectives to solve the Case of the Missing Cape! Engaging and SO MUCH FUN for K-1!
Inference Lesson for K-1
It's time to solve the case! The Case of the Missing Cape, that is. Someone has broken into Super Sophie's car and stolen her pink cape! Who could it be?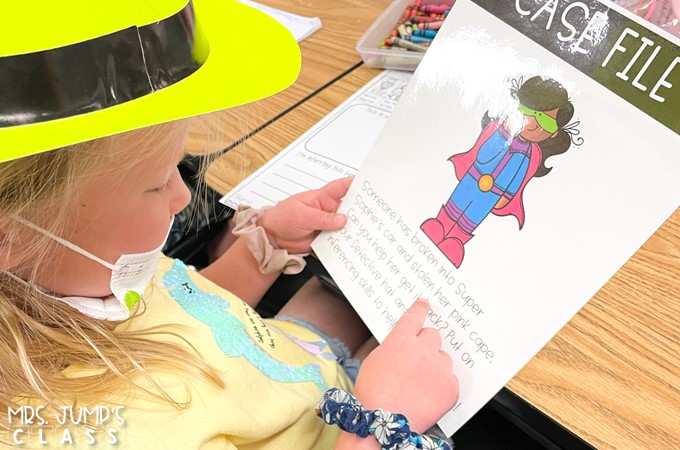 Break out the detective hats and get your students excited about making inferences with this inference lesson!
With just a little prep, you can have these detective case files ready to go! Plus, after you make them for your students this year, they are ready and can be used for next year, too!
Students work their way through 5 clues. Each clue helps students eliminate a suspect!
You can decide to have groups of students working together or to complete the lesson as a whole class. Either way, your students will be so engaged and will love this activity. Plus, this lesson is perfect for collaborative learning. What a great way to help students develop oral communication and higher-level thinking!
Students use the response sheet to keep track of the suspects.
Then, they draw a picture to show who they think took Super Sophie's cape.
And write about why they made that inference.
This amazing resource includes everything you need to lead your inference detectives through the investigation as they use the clues to rule out suspects and determine who took Super Sophie's cape. You can find the inference lesson here:
Your students will be begging to do another inference detective activity! Check out the other units that are available:
If your students can't get enough of being detectives, this unit leads students around the school on a hunt for the missing cookies!