Inferring with Primary Students: Christmas Inference Detectives Activities for  Kindergarten and First-Grade
Inferring with Primary Students: Kindergarten and First-Grade
Inferring is an important comprehension skill for young readers to have and I love giving them lots of practice with this skill.  We infer each week with the story we are reading, but I also like to give them opportunities to infer outside of the text.  Inferring is just putting clues together and using that voice inside your head to help you figure it out.  Clues + Schema (Thinking) = Inferring.
The Case of the Missing Toy Sack
Santa's toy sack is missing! It was last seen inside his sleigh that was parked inside his workshop.  The elf detectives have collected clues and gathered up the suspects, but they need your help solving the mystery.  Put on your detective hats and use your inferencing skills to solve the case.
This fun unit includes six clues that will help your little inference detectives solve the case.  Print out each clue and place it inside the envelope with the matching label.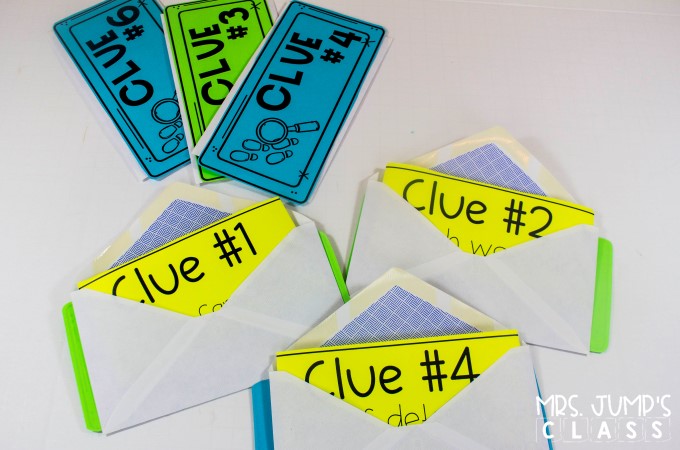 The first clue envelope includes mugshots of the suspects and the clue reads,  The Santa Cam detected these suspects near the workshop around the time that the sack of toys went missing.
Each additional clue will give them the information that they need in order to rule out suspects and solve the case.
Activity #2
Once they have solved the case and determined who took the toy sack they still have one more job to do.  Analyze the picture of Santa's sack and infer why they think the guilty party took the sack in the first place.
Are you ready to join the detectives and help them solve the case?  Everything you need is included in this print and teach unit.
Minimal prep time (about 15 minutes), but guaranteed to provide your inference detectives with lots of engagement and learning fun!
Click on the title below to view the unit on TPT.
INFERRING: THE CASE OF THE MISSING TOY SACK