Hands-on learning with these math and literacy activities for kindergarten and first grade. Independent activities to be used at any time during the day.
Hands-On Learning
"Kids learn through all their senses," says Ben Mardell, Ph.D., a researcher at Harvard University, "and they like to touch and manipulate things." But more than simply moving materials around, hands-on activities activate kids' brains. As teachers, we see first-hand that learning occurs when students are using multiple senses. We teach our students to sky-write and trace letters on the first few days of school. By using pattern block mats, students can experience hands-on learning with these math and literacy activities at any time during the day.
Pattern Block Mats
I would always have students exploring with pattern blocks early in the school year. Why not use those great classroom resources to practice our letters and numbers? The Anytime Tubs: Pattern Blocks includes all uppercase and lowercase letters, numerals from 0-30, and themes for the whole year!
These sweeties were using the mats with the highest level of support. There are three options, so you can decide what fits the needs of your students.
With 217 different work mats, these activities can be used for morning work, centers, games, or fast-finishers – any time during your day!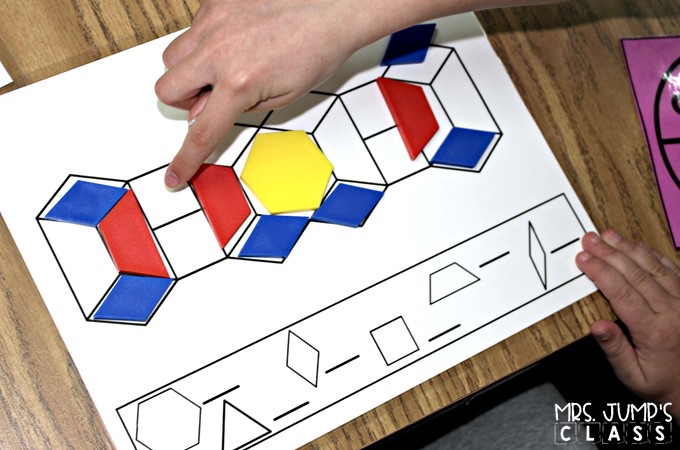 Adorable patterns for the theme or holiday you're learning about. How cute are these for Spring?
The unit also includes math exit tickets and writing templates for students to record their learning.
This product is currently discounted! Click here, to add it to your classroom!
Spring is here! Click below for blog posts about Spring!
Free Hands On Math Activities
You can download this free math center activity by adding your email to the box below. The file will come directly to your email inbox.