Focus on reading fluency in February. Differentiated fluency passages and activities that can be used in class or given for homework.
Reading Fluency
As educators, we know that reading fluency is important and should be a focus in our early elementary classrooms. It is a building block in literacy. The more our students automatically recognize words in reading, the better they comprehend the text that is being read.
There are four components of reading fluency: accuracy, rate, expression, and punctuation. In first grade, we often see students who lack in fluidity and expression. Our Reading Fluency Focus resource will help develop and improve fluency in your young readers. Each monthly unit comes with four seasonally-appropriate poems, four low-level fluency passages, and four high-level fluency passages. Additionally, each set comes with a weekly assignment sheet and an activity or game.
In February, students read about groundhogs, Valentine's day, teeth, and being President. Here is the higher-level Being President passage. While students are reading from another printable passage, you (or parents) are tracking their errors on this sheet.
During week 2, students read Candy Hearts and have fun practicing fluency with Roll, Read, Repeat. I found a set of heart dice in my collection, but I can't remember where they came from! Maybe the dollar store? Anyhow, using a regular die works just the same.
Here is another activity included with this poem. Students identify rhyming words and get to design their own candy heart!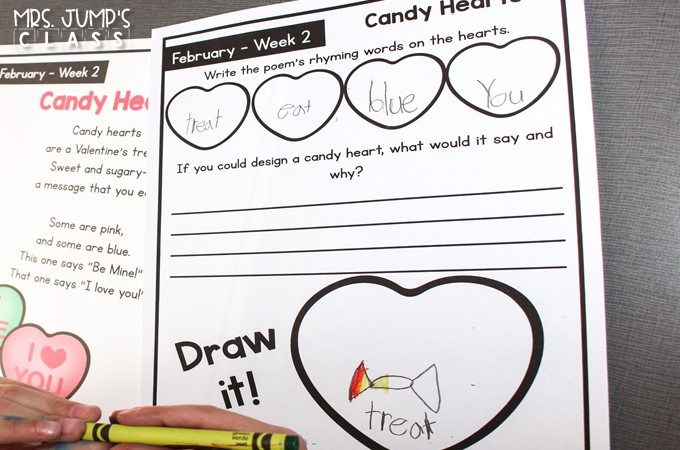 Reading Fluency Homework
Sending home reading practice is an excellent way to keep parents involved and bridge the gap between home and school. There are parents out there that truly want to help their child academically but are unsure of how to do it. This resource comes with a weekly plan that is super easy for parents to follow. Plus, it is so simple for you to prep and stick in your student's folders.
Regardless if you send it home for homework or use the packets in class, we recommend a fluency folder. You can also add a clear pencil pouch inside to keep extra activities organized.
The daily activities don't take much time and are simple enough to be done at home.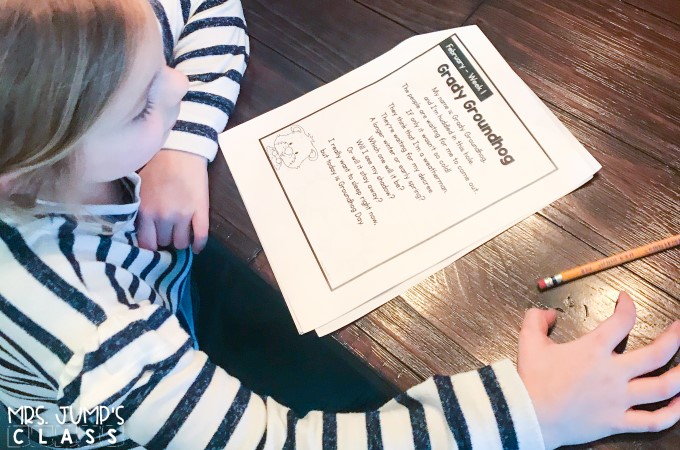 And, they are so beneficial for your first and second grade readers.
Add these fluency focus packets to your daily lessons or send them for homework and watch as your students become stronger and more confident readers.
To read more about building fluency in your classroom, check out these other blog posts: