Digital literacy centers for kindergarten and 1st grade to practice ELA skills. Students practice word families, blends, rhyming, syllables, digraphs, vowel sounds, and more!
Digital Literacy Centers for Kindergarten
Easy and quick-prep digital literacy centers are here! You can easily infuse technology into your classroom or use these centers during distance learning. These engaging ELA activities are available as PowerPoints. This way, you can access the center activities on a computer that has PowerPoint installed or you can load the literacy centers to Google Slides and assign the tasks through Google Classroom.
Your students will have fun practicing specific ELA skills during centers, morning work, small-group, and even intervention groups.
This sweet kindergarten class is working on short vowel word families. They had a blast practicing their words and incorporating those words into sentences.
Prepping for these digital skill activities is so simple and will take you maybe 5 minutes – depending on how long you have to wait for the copy machine 🙂 In the bundle download, the resources are organized by skill. Simply, click on a topic to find all of the available PowerPoints. This is where you will also find the PDF with the student response pages. Quickly print and make copies. Then, you can assign the tasks on your technology devices and you're ready to go!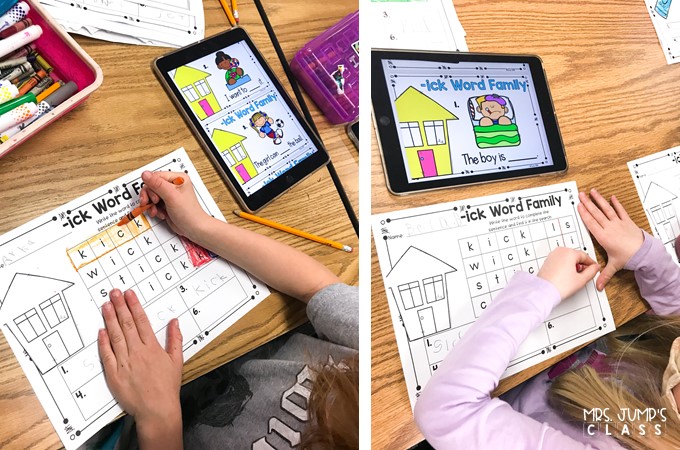 ELA Skill Centers for the Entire Year
One, of many things, I love about these centers is the versatility! You can use these throughout the entire school year. In August and September, when your kindergarten sweeties are learning letter identification and sound, you can pull those PowerPoints. Then, in January when you're reading to start introducing digraphs, you can find center activities for that – all in one place! I also made these center activities non-thematic – so they can be truly used at any time throughout the year in kindergarten and first grade.
Plus, there isn't just one PowerPoint for each skill… you will find multiple center activities to practice each ELA skill.
I did bundle the various skill centers together to save you money. You can find that bundle here:
If you are looking for more grade-level specific skills, you may like the monthly digital centers. These are thematic and follow a typical grade-level scope and sequence for literacy and math. You can read about those in this blog post: