Butterfly lesson plans. Students respond to literature using the story, The Very Impatient Caterpillar and also learn about the butterfly life cycle and migration using nonfiction text.
Engaging Butterfly Lesson Plans
Learning about butterflies is always a fun Spring lesson, or really at any time of the year! Students can easily get excited about these fun insects because they see them in everyday life. There are so many great pieces of children's literature that represent butterflies and the butterfly life cycle, both fiction and nonfiction alike. We pulled one of each and put together 2 weeks of lesson plans to teach students about butterflies.
The fiction book we used is an absolute favorite! The Very Impatient Caterpillar by Ross Birach is a classroom go-to, especially in kindergarten through second grade. Not only does this funny story teach about the life cycle of a butterfly, but it also teaches a valuable character trait – patience. Check out the video on YouTube:
Students respond to this fiction story and practice reading comprehension strategies, like with our traditional Engaging Reader units.
We included a nonfiction book as well to support your teaching with a science emphasis. National Geographic Kids has a great book that provides students with a deeper understanding of butterflies and all that they do, including the life cycle and monarch butterfly migration. Here is a video for you:
Keep reading to see the student response activities for each of these great books!
The Very Impatient Caterpillar
There are 6 days of reading comprehension lessons that use this story. Students practice making predictions, retelling the story, making inferences, understanding cause and effect, identifying connections, and forming opinions. There is also a directed drawing! You can decide to complete the craft at the end of the week of activities or use it to get your students excited about what is coming up! That is exactly what this kindergarten teacher did… and her students were thrilled!
Throughout the week, students completed various reading response activities. They started with making predictions about the story.
As the week continued, they moved onto retelling the events of the story.
And, practiced building their inferring skills.
National Geographic Kids: Butterfly Migration
Get a little deeper with learning about butterflies with this nonfiction book about the butterfly life cycle and migration. Start this book study by identifying student schema. Students have fun telling you all they know about butterflies!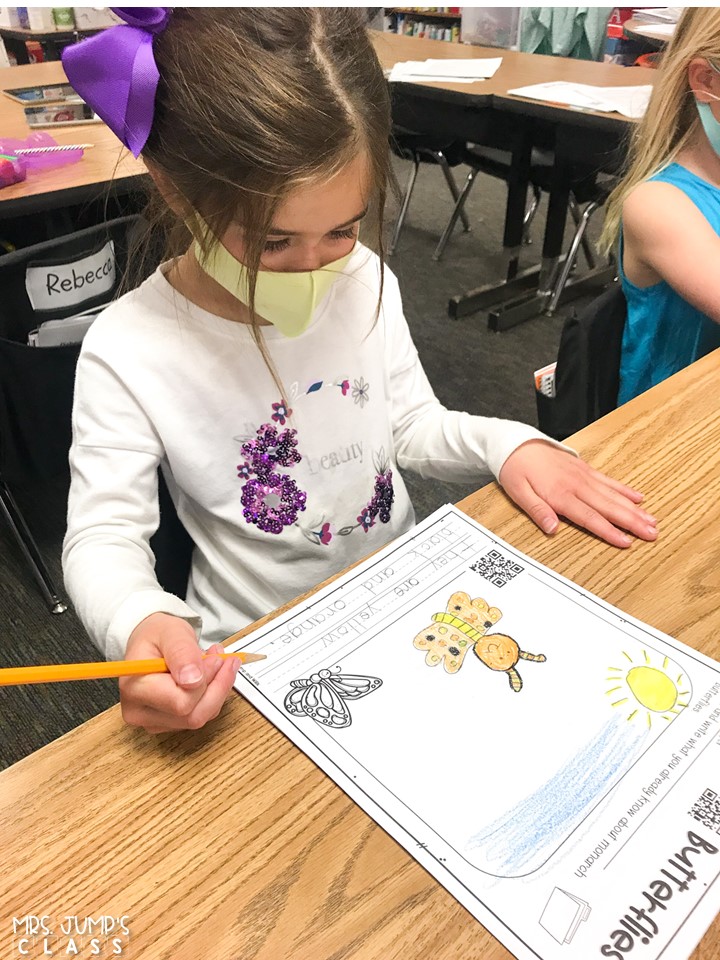 Butterfly migration is fascinating! Your students will be amazed at how far butterflies travel.
And, of course, students learn about the butterfly life cycle.
There is a digital option, too!
All of the activities are available in digital and printable format! These digital learning activities are great if you are on a virtual schedule at your school. All of the activities are preloaded to Seesaw with 1-click link access! We also included PowerPoints so you can easily load the activities to Google Drive or another digital platform.
Have fun learning about butterflies with these butterfly lesson plans! You can find the bundle of digital and printable activities here:
Another great fiction story to introduce during your study of butterflies is Velma Gratch and the Way Cool Butterfly. You can find lesson plans and a free file for the story by clicking here: