Reading lesson plans for December are here! Digital response activities for your favorite Gingerbread and December stories!
Reading Lesson Plans for December
December is certainly one of my favorite months for teaching! In addition to the excitement in the classroom, there are so many fun learning activities for the holidays. Now, of course, it's important to keep students learning during this time. Our Engaging Readers units offer just what you need to keep the teaching going, but have a lot of fun while doing it! Plus, our new digital units of reading lesson plans are perfect for distance learning.
We made sure to keep the printable options, so these units work great for in-class learning, too! We also added QR codes to the printable activities that link to the digital read-aloud of the story. (This is an older picture so you don't see it here, but you will find it on the updated version.)
At the beginning of each week of reading lesson plans, you start by introducing the story to your students. We've linked a video of each story in Seesaw and on the PowerPoints for Google Slides. In a classroom setting, you could show the video to your whole class or if you are teaching virtually, this could be done through Zoom, as well. Students can also watch the video on their own devices.
We linked the video for each day of the week. Students will complete 5 reading response activities throughout the week. The skills that are practiced vary. On one day, students may be making predictions, inferring, or building their schema. And the next, they are retelling the story, making connections, forming an opinion, and even more.
And remember, each activity is available in a digital and printable format. So, use what works best for you and your students!
December Books
There are 8 book titles that would be great for the month of December and even January, too!
The Polar Express
Too Many Tamales
Bear Snores On
Peter's Chair
The Gingerbread Man
The Gingerbread Girl
Catch That Cookie
The Gingerbread Baby
Students will, without a doubt, love the fun crafts! A bear headband, Peter's bag, Gingerbread characters to name a few. Students will be excited about the fun learning! Comparatively, you'll love the cute hallway decorations and parents will enjoy seeing all the cuteness!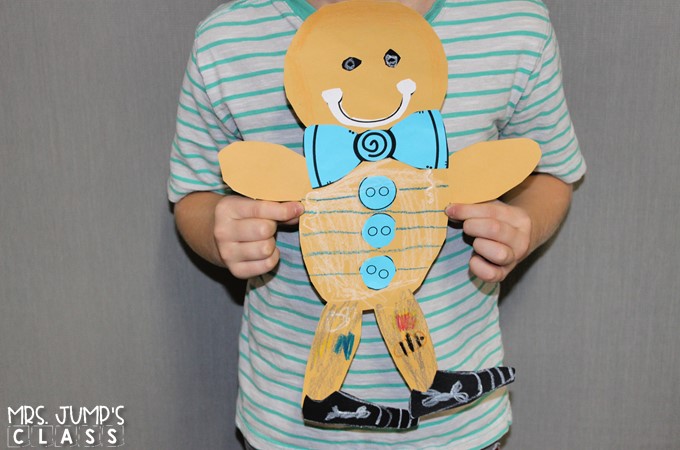 You can find all of the lesson plans and activities for 8 great book titles in one bundle! Check it out here:
📌 CLICK HERE TO SAVE THIS IMAGE FOR LATER!
For more ideas for December, take a look at these blog posts: