Name activities for early learners. Students will have fun practicing their names with these math and literacy activities that are great for back to school!
Name Activities
Is it back to school time for you? Well… are you (at least) thinking about back to school? These fun crafts and interactive pocket chart activities are perfect to practice names and have fun doing it! They also make ADORABLE bulletin boards for the first few weeks of school!
Here are a few math and literacy activities for you and your class!
Chicka Chicka Boom Boom
I love this book and it was always one of my back to school read alouds. After reading the story, students create this super cute craft.
A, My Name is Alice
Another great read aloud! This book is full of alliterations. After reading, engage in a pocket chart activity with your class. Your students will love seeing their name in the pocket chart!
Create a self-portrait as a fun added craft!
Instead of the sentence, you could add rainbow names.
The Wheels on the Bus
A cute craft to focus on the beginning sound of your students' names. They draw pictures of their new friends to ride their bus. Kids love it!
Add some rainbow names and you have a brightly-colored bulletin board display!
Bippity Boppity Bumblebee
Practice the number of syllables in your students' names with this interactive pocket chart. This could be a fun morning meeting song/activity.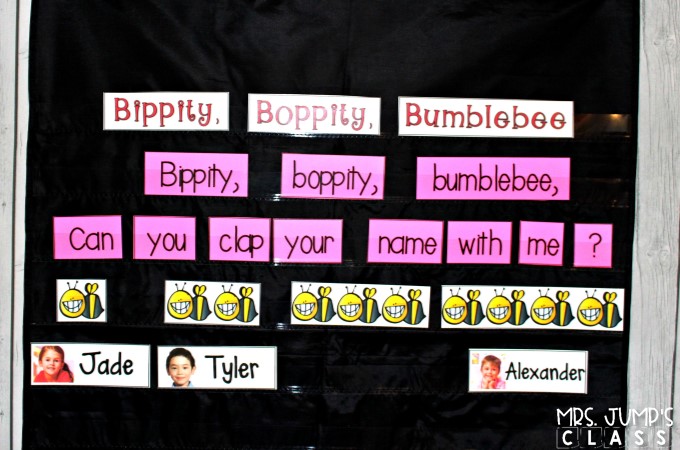 Math Activities
Your students can even practice using math manipulatives with these name activities.
These fun math and literacy name activities can be found in my Names unit:
I mentioned Chicka Chicka Boom Boom earlier and thought you might like some lesson plans for this fun book! Click here: