If teachers ask students to name a favorite holiday, responses often include Christmas, Halloween, and the Fourth of July. Indeed, holiday celebrations are a significant focus in the United States. However, students often do not realize how countries worldwide celebrate holidays. As the Lunar New Year approaches, it is the perfect time to show students how a well-known country rings in their new year. The Lunar New Year Packet will be an excellent way to ensure students have everything they need to travel across the world!
What is the Lunar New Year?
The Lunar New Year, known as the Chinese New Year, is the most important holiday celebrated in China. In 2022, the Lunar New Year will begin on February 1st. The date to start follows lunar phases, solar solstices, and equinoxes. Thus, the Lunar New Year will occur with a new moon and end with the full moon arriving. Ultimately, it is a time to reflect on the passing year and celebrate the future.
Length of Celebration
The Lunar New Year celebration occurs over 15 days. Each magical day centers around family, food, and good fortune. Before it begins, families ensure homes are spotless. A deep cleaning will remove negative aspects collected during the old year.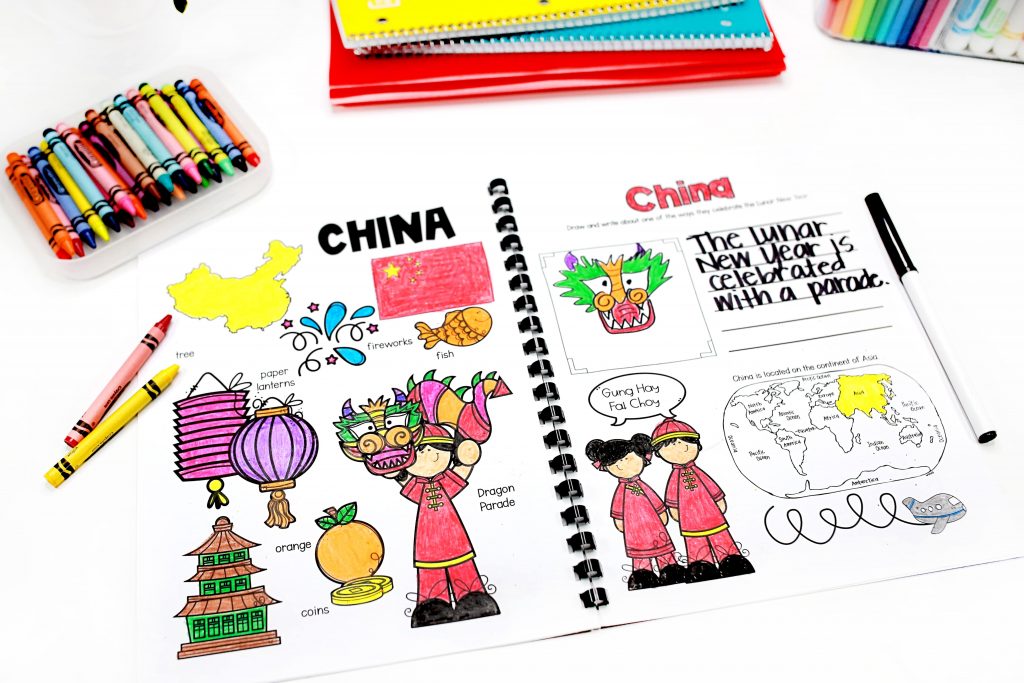 Family
A huge focus throughout the Lunar New Year is spending time with family. Thus, people travel significant distances to return home. Often, food is a huge focus, including noodles, shrimp, and egg rolls. Children and unmarried adults even receive lucky red envelopes containing money.
Animals of the Lunar New Year
An animal from the Chinese zodiac represents each Lunar New Year. Therefore, learning about the different animals and what they mean is essential. Specifically, the animals include the rat, ox, tiger, rabbit, dragon, snake, horse, sheep, monkey, rooster, dog, and pig. Each animal has specific characteristics and people born in that year are said to share many similarities.
Dominant Color
Whenever examining decorations and critical symbols of the Lunar New Year, the color red is all over. This focus began long ago! During the Zhou Dynasty (1046-256 BC), a Nian, or lion-like beast, appeared. However, the Nian was scary and would eat people and animals. Thus, people worked hard to find out what the Nian did not like. This study resulted in learning loud noises and anything red was feared. Hence, fireworks and bright red decorations, such as dragons and lanterns, were added to Lunar New Year decorations.
Honestly, it can be difficult for students to understand celebrations when they occur far away. However, this does not mean raising awareness for different cultures, beliefs, and traditions is not essential. Thus, the Lunar New Year packet contains everything needed to bring the celebration into the classroom. For instance, students will learn about the festival through a PowerPoint with authentic images. Additionally, students will create Chit Chat messages and a blackline response sheet to discuss what they have learned. To gain that information, students will read emergent readers and examine symbols, such as animals, dragons, and lanterns.
As an added element, watching short video clips can be a great way to reinforce the information in the packet. Even better, showing a video and having students read helps accommodate different learning preferences. Thus, The Story of Lunar New Year and Chinese New Year are excellent videos for kids!
The Lunar New Year is an incredible celebration filled with fun, family, and reflection. The Lunar New Year Packet will be an incredible way for students to analyze and reflect on the celebration of others!
You may also like this lesson: Holidays Around the World!
If you do not want to miss any of the upcoming lessons, join my email list to be notified of all the interactive lessons coming up! By joining the email list, you will also receive freebies for blog exclusive subscribers!
Pin for Later