Kindergarten math lesson plans for teaching numbers to 5, 2D shapes, and 3D shapes. This resource provides detailed instruction for your first 4 weeks of math!
Kindergarten Math: The First 20 Days
The first few weeks of school are a hectic time for teachers! You are making sure to cover all procedures and routines, all while beginning to teach the curriculum. Many teachers get started with academics right away in order to stay on track for the expected curriculum for the year. Wouldn't it be nice to have planned out lessons to save you time and stress? You're in luck! That is just what I have for you – detailed lesson plans and printable resources to teach all about shapes and numbers to 5.
The First 10 Days…
The lessons start out with students comparing shapes and objects that are the same and different. We like to tie in literature whenever possible to help teach academic skills and guide students to make real-life connections. For the first few lessons, you can use this National Geographic Kids book to identify objects that are the same and objects that are different.
On Day 1, students identify shoes that are the same and different. You can create meaningful learning and complete this activity in your classroom with real shoes. Your students will think it is the "best day ever" when they get to take off their shoes!
In addition to everyday objects, students learn they can compare shapes. They practice sorting by shape, size, and color.
While making comparisons, students are also counting up to 5 and practicing correct number formation.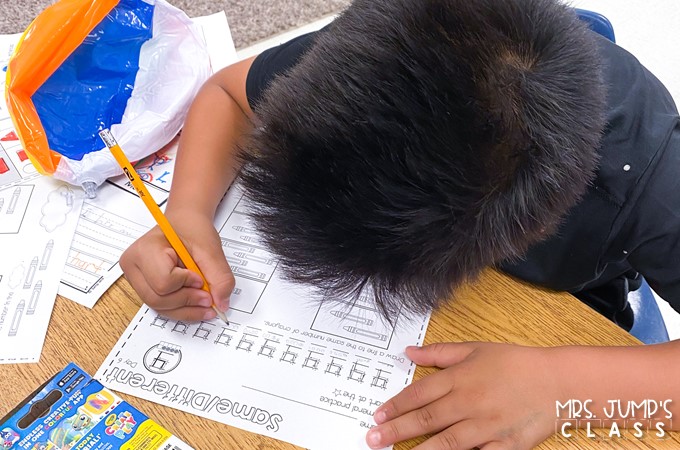 Days 11-20
Now, you are ready to teach shapes. A fun book to read while teaching about 2D shapes is The Greedy Triangle by Marilyn Burns.
We start by introducing 2D shapes and identifying sides and corners.
Then, students have fun with this color, cut, and paste activity to practice identifying shapes with curves and no curves.
These kindergarten sweeties did a shape sort on the SmartBoard.
Students explore 3D shapes, too!
The math lessons and activities for shapes and numbers to 5 are provided in unit 1 of our Guiding Math curriculum. Click here:
We have center activities and journal prompts to provide additional practice for unit 1.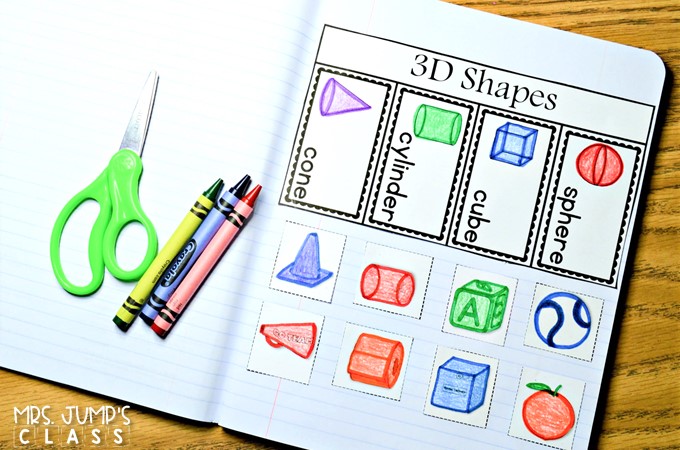 You can find this resource here:
Math Assessments
Of course, when you start thinking about instruction, you also start thinking about assessments. ESGI is the best platform for completing assessments. It is so easy! Plus, we've added assessments specifically for our Guiding Math Units… making it so simple for you!
Administering these assessments is quick and easy! Do they answer it correctly – simply yes or no.
With ESGI, you can quickly review student progress.
And print off parent letters to send home with students.
ESGI – FREE TRIAL!
There are so many great features with ESGI! If you are not using this amazing assessment tool, give it a try! I know you will love it! You can access a free trial here:
You are covered with math resources for the beginning of the year. Do you need ideas for literacy? Check out this post with alphabet activities for kindergarten: