Back to School activities for kindergarten, 1st, 2nd grade. Open house resources, schedule cards, songs and chants, crafts, and so much more!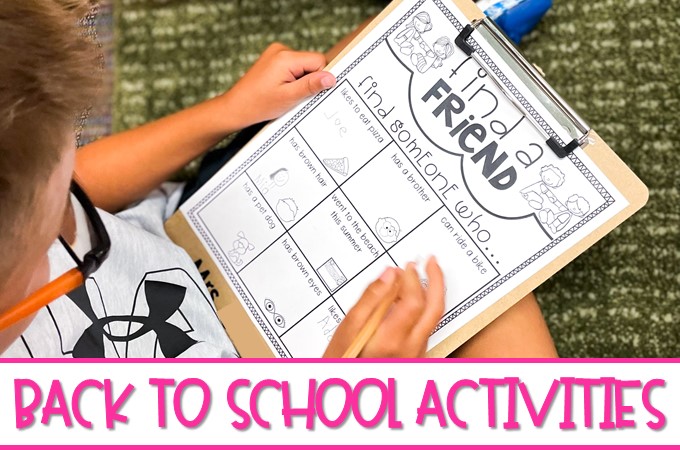 Back to School Activities
It's that time of year again! New students will be walking through your classroom door soon or maybe they have already! These back to school activities are great to help students become comfortable in their new classroom with a new teacher and possibly new friends. Plus, there are some great resources to help you feel comfortable, too! You will love what I have to help you get ready for Back to School Night or open house.
Back to School Night/Open House
Some schools have an open house before school begins and I know others have a Back to School Night a week or so after school begins. Whichever it may be for you, these quick printable resources will be one less thing you need to stress over.
PowerPoint Slides
You have to get your information to parents somehow… why not present it as a cute PowerPoint? The PowerPoint layout is done for you. Simply pick and choose which slides work best for you and add your information.
Class Wish Lists
Class wish lists are the perfect visual to set out for any event involving parents. We've included 6 different wish list themes for you to use not only at the beginning of the year but any time really. Maybe you put up a wish list during class parties or events at the school where parents will be popping into your classroom. There are so many parents that want to support you. This is a great and easy way for them to do it. The templates are also editable so you can customize and add items that you need.
First Day Portraits
These self-portraits for the first day of school always turn out so cute!
If you create student portfolios, these will be the perfect first addition!
Songs, Chants, and Call Outs
Keep your management in check with these attention getters and chants. Your students will have fun responding back to you and staying on task with these call outs, songs, and chants.
Print the cards on cardstock, hole-punch the top, and secure them with a binder ring. You can use these all year long and use them ANYWHERE at ANYTIME!
Schedule Cards
Providing your students with a visual schedule is great for the sweeties that thrive on routine and consistency. There are 84 schedule cards covering classroom routines, activities, and special classes. We included a blank analog and digital clock so you can easily add the appropriate time.
Transportation Crowns
The end of the day in a primary classroom can be chaotic, especially those first few days of school! It is your responsibility to get all twenty or even, thirty something kiddos, safely out of the door during dismissal. In kindergarten specifically, this can be like herding cats. Many of your babies have no idea what to do and where to go. The transportation crowns are the perfect way to keep students organized and easily spotted during dismissal.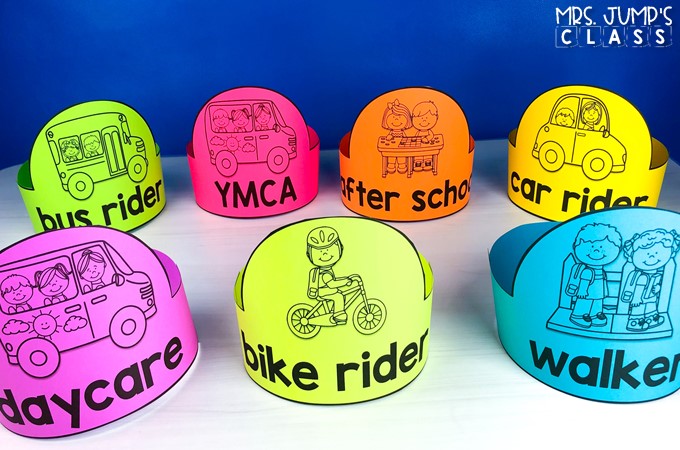 Printing the crowns on different colored cardstock will make it easy to quickly identify which students need to be where.
Find It/Find a Friend Activities
These scavenger hunts are a great way to introduce students to the classroom and their new classmates.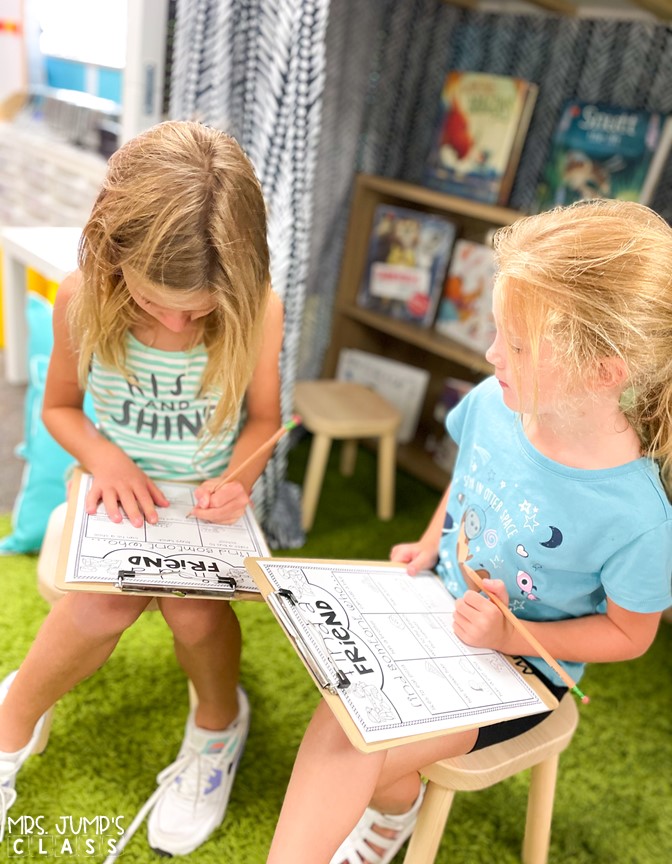 Crafts
Crafts are one of my favorite things to do in the classroom! These back to school crafts are fun and engaging.
There are a few crafts that also tie in with a read aloud! This activity using the book, Lacey Walker, Nonstop Talker is perfect for the beginning of the school year.
It makes a wonderful hallway display!
There are so many fun resources in this unit! Check it out here:
Have a wonderful school year!