Many times, students love to go on adventures with their classmates. For instance, an exciting scavenger hunt for different items around the classroom or school is always fun. However, this excitement can easily be incorporated with a challenging skill: making inferences! Students may not realize it, but working on inferences is like going on a scavenger hunt within a story. Instead of looking for items, they are usually looking for crucial details. Thankfully, Inference Detectives: The Case of the Snowman's Hat will take students on an exciting journey to solve a mystery! Even better, this inference lesson for grades K-2 helps students gain confidence in themselves while acting as a detective.
Making Inferences
Learning how to make inferences is a tricky skill for students to learn! However, it is a foundational skill, so it is imperative to practice this with students. When developing inference lessons for grades K-2, a central focus is teaching the equation clues + schema (thinking) = inferring. This means that students look for information presented in the text. Then, they combine it with their background knowledge. As these two aspects come together, students make an inference about a particular topic or situation.
To make inferences fun, students are going to go on a mission! They need to help the snowman find his missing hat! Thus, this is the perfect winter activity that will genuinely excite students.
To begin the lesson, students will learn that the inference detectives have collected clues and gathered 5 suspects. However, they cannot solve the mystery without the help of the class. Hence, students must work hard to help the cold snowman!
Within the inference lesson for grades K-2, students will be given 4 clues to rule out suspects. To focus solely on inferences, the teacher will read out each clue to avoid students struggling with the reading. After each clue, students will work together to discuss which suspect they should rule out. By the end of the clues, students will have one final suspect. Then, they will write a short response to explain their reasoning behind who stole the snowman's hat.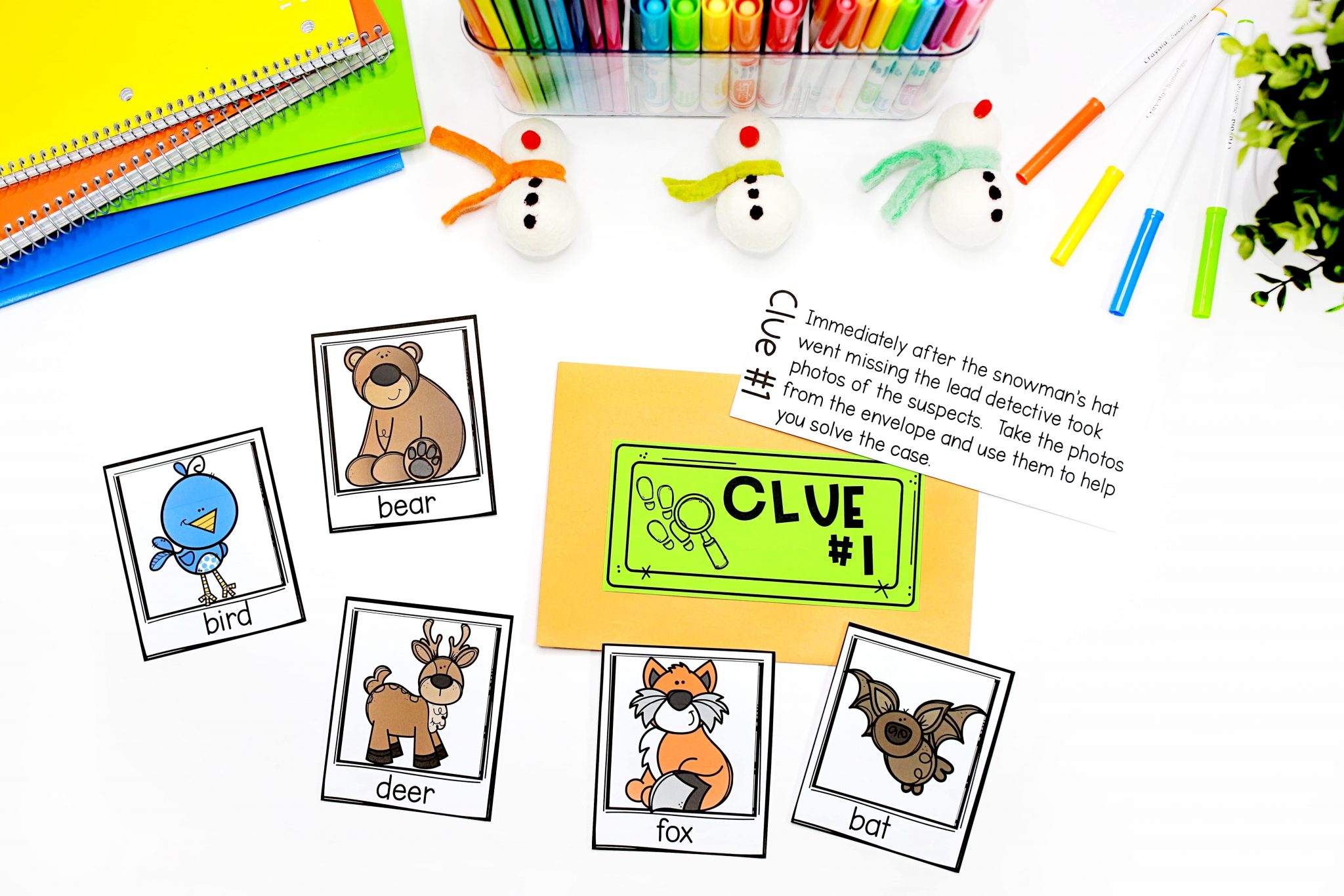 If students are older or accelerated, they could read the clues themselves. Additionally, this inference lesson for grades K-2 works perfectly for independent activity, small group, or whole class. If students work together, they will practice collaborative skills and oral communication. No matter the completion format, students will be engaged and challenged.
Students Become Inference Detectives
As an added level of excitement, I love to have my students wear detective hats! This small detail helps them get into the right mindset and makes them eager to show off their detective skills. Want to learn more about inference detectives learn more here!
Ultimately, Inference Detectives: The Case of the Snowman's Hat is filled with higher-level thinking over a complex skill. However, student detectives will have so much fun solving the case for the snowman's missing hat! Hence, they will realize how bright they are when they set their mind to solving complex problems.
If you do not want to miss any of the upcoming lessons, join my email list to be notified of all the interactive lessons coming up! By joining the email list, you will also receive freebies for blog exclusive subscribers!
Pin for Later!
FREE The Mitten Reading Unit
Subscribe to get our latest content by email.