All about penguin lesson plan ideas for kindergarten and first grade. Reading, math, crafts, and anchor charts to help teach your students about penguins! Free file included too!
All About Penguins!
We love to learn about penguins each winter.  It provides a great opportunity to teach your young learners using both fiction and nonfiction!
All About Penguins: Charts
Here are a few of the ways we organize our thinking!
Penguin Chit Chats
Chit Chats are a daily routine that we use to review our previous knowledge while incorporating various language art skills.  Students assist as we complete the morning message.  Then students turn and chat with their partner to review what they know about the question of the day.
Schema Chart
Together, the students and I review our schema about penguins.  Then we add our new learning.  Because I have modeled that it is okay if students have misconceptions, we are fearless in our participation… and when we have a misconception, we celebrate our shift in thinking!
Learning Map
This chart provides a great way to organize our thinking and get us ready to write about penguins.
All About Penguins: Nonfiction writing
Students take their turn as an author!
We also used our knowledge of how some penguins hold eggs on their feet.  My students loved trying it out.
Then we wrote about it.
More penguin fun!
All About Penguins:  Fiction lessons!
We love Tacky the Penguin!  So we have to include him in our study as well!
If you would like to read more about Tacky the Penguin lesson ideas, I have a few blog posts for you:
All About Penguins:  Math Connection
We also had some fun with Penguin Fair Share!
We also worked on creating a penguin glyph!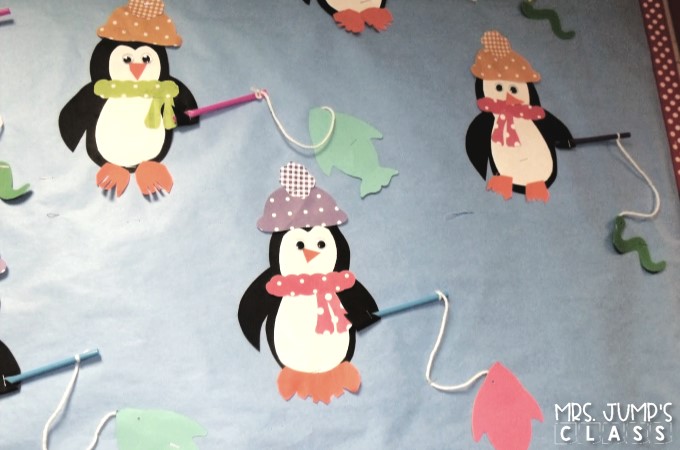 Where can you find these resources?
I have a few units that will help support you in teaching all about penguins in your classroom.  You can find them in the following links:
Penguin Free Files
I have a free file for you!  Simply add your email in the box below and it will be sent to your inbox!