There are so many crucial components to becoming a strong reader and writer. Therefore, it can be overwhelming for teachers to plan high-quality lessons to meet each student where they are. However, teachers know that strong phonological awareness sets the stage for decoding, blending, and reading. Therefore, it is crucial to focus on when teaching the science of reading. Luckily, phonological awareness rhyming creates fun, exciting ways for students to focus on letters, words, and sounds!
What is Phonological Awareness?
Truly, phonological awareness is the foundation for reading and writing success. When utilizing phonological awareness skills, students learn to manipulate sounds, identify sounds in words, and blend sounds to make words. Honestly, phonological awareness is the foundational layer that literacy stands on.
Importance of Phonological Awareness Rhyming
Rhyming is a crucial aspect of developing phonological awareness. When working on rhymes, children listen to the sounds within each word. Therefore, they notice how different sounds work within words. Additionally, rhyming allows children to see that words with familiar sounds often contain the same letters. This knowledge often helps students become stronger spellers as they begin writing.
To work on phonological awareness, students can identify if words rhyme. Then, they can create their own rhymes as they become more confident in their skills. No matter how students practice, rhyming allows them to learn how letters and sounds work.
Ways to Teach Phonological Awareness Rhyming
Since lessons on rhyming can be so creative, there are so many ways to practice. For instance, whole-class instruction can include pictures and hands-on items. Students can all have one object. This may be a pencil, eraser, or something special they get to bring in for the day. Then, teachers can hold up pictures for students to decide if their object rhymes with the picture. They may stand up or move to a specific side of the room if there is a rhyme. For small groups, students may match images that rhyme. Either way, students will have so much fun while developing phonological awareness.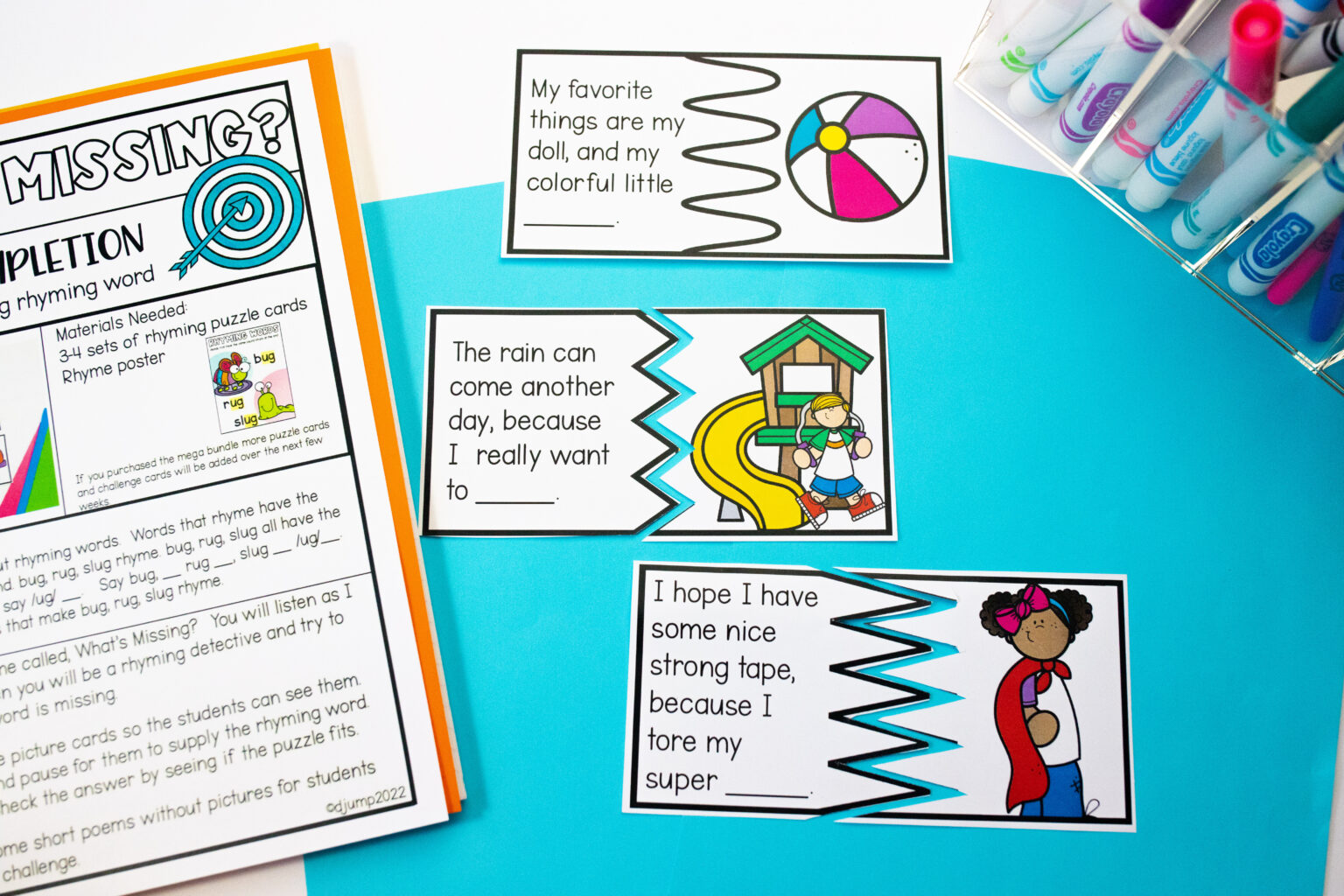 This MEGA growing bundle includes over 150 activities focused on the science of reading. Specifically, there are 9-15 lesson plans and activities for EACH area of phonological awareness. This includes concepts of the spoken word, rhyming, syllables, onset and rime, and initial sounds. Furthermore, there are activities for phoneme blending, segmentation, and manipulation. There is even a dash of phonics included!
Every student learns at a different speed. Therefore, most of the activities include multiple levels of instruction. Hence, students can work on various activities as their skills increase while keeping the format and directions consistent.
Rhyming Stories
Often, students benefit from listening to stories with rhymes. They gain confidence when they can hear the rhymes in an engaging format. Luckily, YouTube has excellent stories for phonological awareness rhyming.
Students will love hearing about sheep riding down a steep hill in a jeep. They will also see the importance of friendship as the sheep need help after tumbling out of the jeep.
Sadly, Gerald the giraffe feels too awkward to dance. Thankfully, a cricket teaches Gerald a powerful lesson about loving precisely who he is.
Who doesn't love to paint? Well, there is a little boy who doesn't know when to stop! However, he paints so much that he ends up painting his body! Students will be on the edge of their seats while awaiting the mother's reaction.
The stories above are engaging and funny! Students will love listening to the story and seeing the fantastic illustrations.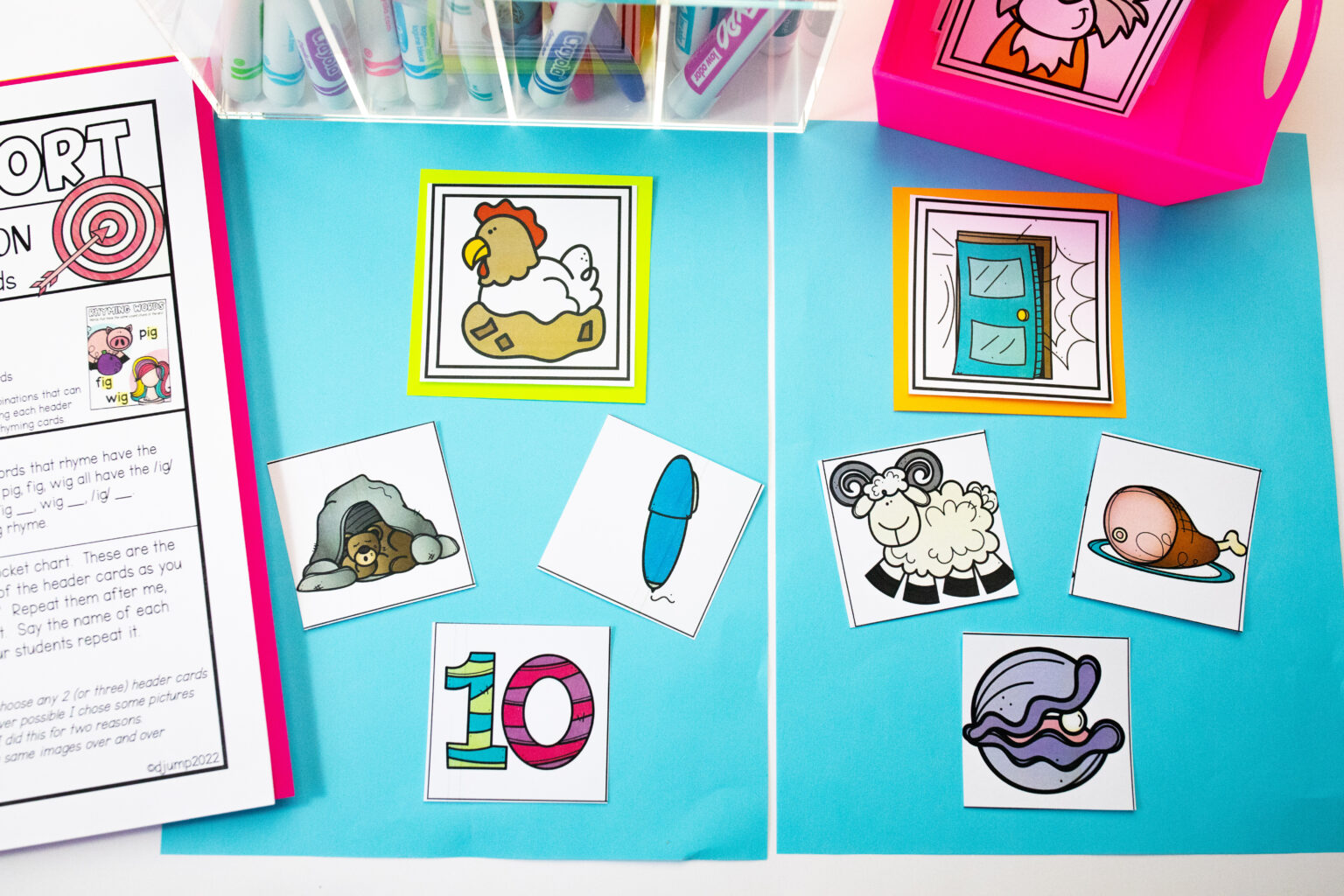 Phonological Awareness Differentiation
Differentiation is essential when focusing on phonological awareness rhyming. Therefore, some students may need to only focus on pictures instead of words. As time progresses, they can advance to words. Additionally, students may need to hear the options aloud. This is a great way to help them identify rhyming and saying words correctly. Students ready to advance may be given one word and then provide a word that rhymes. Additionally, they may write sentences that rhyme together.
Teachers work hard to ensure reading and writing success for all students. Whether working on phonological awareness rhyming or breaking down sounds, there are many skills to work on. Thankfully, the Phonological Awareness Small Group Lessons and stories will ensure students work on all fundamental skills!
If you do not want to miss any of the upcoming lessons, join my email list to be notified of all the interactive lessons coming up! By joining the email list, you will also receive freebies for blog exclusive subscribers!