Chapter 10 Tone. You know the expression, "It's not what you say, it is how you say it."  Tone is an important part of composing. Katie Wood Ray says, "…tone refers to the overall blend and intensity of color, light, and shade in a picture, all of which evolve an emotional response."
She goes on to say, "When speaking, people use the tools of volume, pitch, gesture, and intonation to set the tone."  Illustrators and writers must be able to set the tone visually.
Carl's Nose
is a funny story of a dog who has a nose for the trouble.   His village is at the base of an ominous mountain.  The villagers rely on Carl to alert them when dangerous weather is coming. However, the weather become uncharacteristically clear and sunny and Carl seems to question his value to the community.
This book is filled with great illustrative techniques, so I added some "flashbacks" from previous chapters.
Towering mountain and thunderous clouds… ohhh… shiver!
Clouds moving , nose sniffing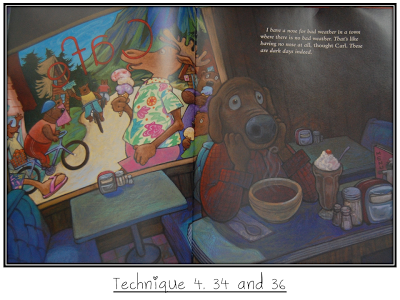 #4:  You can see the two sides of this physical space.
#34:  They background colors have an impact on the tone.   Happy outside… sad inside.
#36   His distance from the town's people sets the tone of isolation.
Doesn't the forest just look like danger is lurking?
This book is HIL-AR-I-OUS!
This next page says
"When T. rex saw Man's undies,
He roared with deafening rants,
"I don't want to eat you up,
I want your underpants!"
Now it is your turn.   Link up with your reflections from Chapter 10 Tone.
One winner will be selected from the blog link ups and one winner will be selected from their reflective comments.
document.write('