Gingerbread Fun Classroom activities for kindergarten with a free file. Math, literacy, crafts, and more! Kindergarten holiday play ideas too!
Gingerbread Glyphs
These are our Gingerbread glyphs.  Aren't they cute?  I love activities that incorporate reading, math AND fun!  The kids cut all of their own pieces so they all turn out unique.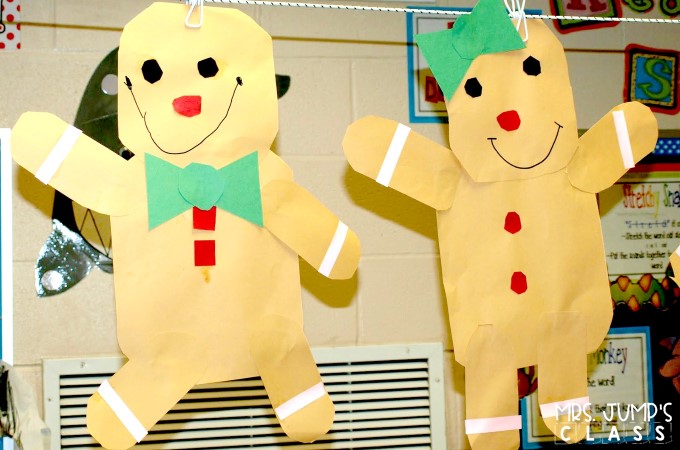 This is the book that goes along with the glyph. Glyphs are a great way to incorporate collecting and analyzing data.
NOTE:  Some of the pictures above are from this unit that was created in 2010.  It has since been updated and grown in size!  To purchase this item or grab the update click:
Gingerbread Man Reading Activities
As we read, we created this chart to track our thinking.  Please excuse the older picture, but I thought it would be better to share this with your so you can get an idea of how I structured it.
Here are a few other images from the reading activities we did.
My original intent for this Bubble Map was for it to be about the cookie we just ate.  So the chart was originally titled Gingerbread Bubble Map.   As we were brainstorming adjectives to describe the cookie one of my little smarties said, "trusting."  When I asked her to explain her answer she said, "Well he was way too trusting.  He shouldn't have trusted the fox because he has sharp teeth and crazy eyes."  Oh. my word y'all!  Isn't that smart?  I just love when the unexpected happens.  So this of course was the perfect time to teach them about using a carrot when you need to insert information.  Thus, the rather messy looking chart below where I had to use a carrot to add the word Man to the chart.  After that discussion, another child said, "Yeah, he was so foolish!"  I die.  🙂
We read a lot of versions of the Gingerbread Man and keep a journal of the different endings.
Here are a few examples from The Gingerbread Man and The Gingerbread Girl.
Gingerbread Man Math Journal Prompts
One of our math journal prompts.
Gingerbread Man Center Activities!
Since I teach thematically whenever I can, I created some math and literacy centers to go with our Gingerbread Man theme.
Gingerbread Man Think Math!
Oh, my word I can't even tell you how much we love doing Think Math.
I love it because it gives every single little friend a chance to contribute at their own level of thinking.
You can see the variety of answers on the chart.  One other thing that I have built into this activity is Give me a number.  If I call on a little friend they know that they don't have to worry.  If they are stuck they can ask me to give them a number and I will give them a number to get them started.  For example, if I have a little one who I know doesn't have a clue I would give him the number 4.  That way he only has to know that you add one more to get 5.  His little face lights up as he shouts out, "4+1=5".  Success!
If you are interested in these activities above you can find them by clicking:
Gingerbread Man Play!
We are working on our Gingerbread Man play.  We do this play every year and I can't even tell you how much fun it is.  The music and play was written by Heidi Butkus from Heidi songs.  Working on this play keeps my kids actively engaged and it keeps me from losing my sanity during this crazy time of year. Parents from three years ago still mention how special this play was to them!  Do it!  You'll love it!
Here are some pictures of our props and costumes.  The oven and bridge were made by my local high school drama department.  They only charged me $85 for the cost of the supplies.  The oven is large enough for a child to fit inside.  They left the back open so that the child wouldn't be scared.  LOVE it!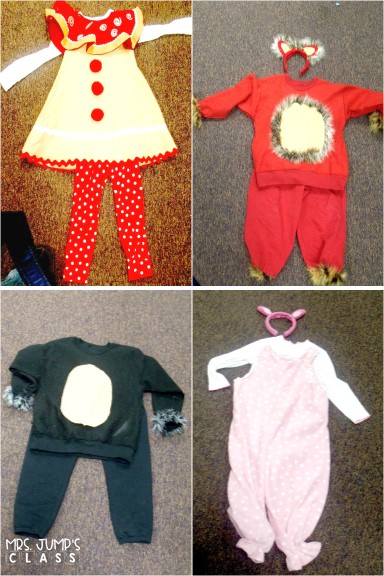 Other Holiday ideas
If you like glyphs, you may also love this pajama glyph!  This goes along with my Polar Express unit.
You can find this activity by clicking:
If you are looking for more iead
Christmas Elf Activities!
You may also be interested in these elf math and literacy activities too!
Are you looking for more ideas for your gingerbread unit?  You can find more ideas in this blog post:
CLICK HERE TO PIN THIS POST FOR LATER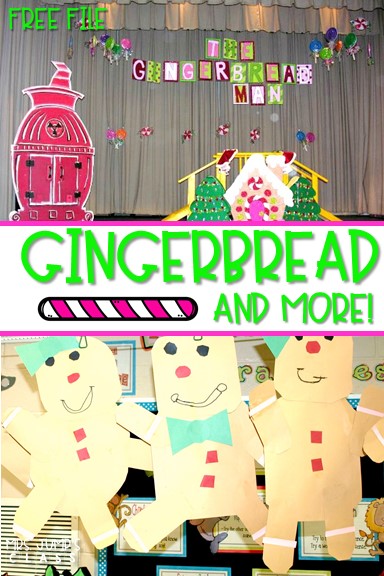 FREE file
Don't leave yet!  Here is the free file I promised you.  Simply add your email to the box below!