We had so much fun learning about farm animals.  We made a chart to compare and contrast sheep and pigs.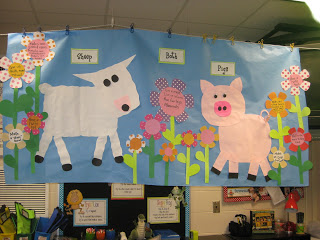 We learned a lot about cows.  As a culmination to our farm animal unit we made our own ice cream in a bag!  The kids were able to see firsthand how matter can change from a liquid to a solid.  MOOOO-velous!
We read some of our favorite stories, Mrs. Wishy Washy by Joy Cowley, and Who's in the Shed? by Brenda Parkes are great stories for Shared Reading. Who's in the Shed? is a great story for making Predictions based on clues from the story.
In Reader's Workshop we've been learning that great reader's make connections to stories they read.  This week we read, The Flea's Sneeze and Baachoo!  and compared the stories.
Cow glyphs!
 Which apple is your favorite?
The best hi-light this month was going to Grandparent's Day at my sweet Madison's preschool.  Isn't she adorable!?