Chicka Chicka Boom Boom Activities for Back to School. Kindergarten and first-grade classroom ideas with a Chicka Chicka Boom Boom directed drawing, science, and writing!
Chicka Chicka Boom Boom is simply one of those books that is perfect for back to school time. See how we use this book throughout the week!
Chicka Chicka Boom Boom Activities: Reading Ideas
I always seem to start the year off with Chicka Chicka Boom Boom, I bet you do too! But just because it is the beginning of the year, it does not mean you can't add a little substance to your lessons.
Retelling
We start the year off with practicing retelling Chicka Chicka Boom Boom. First, we put the pictures in sequential order. This activity is done as a whole group with students helping along the way. If we forget, no problem! We simply go back into the text and check to see if we were right (GREAT SKILL TO LEARN… CHECKING THE TEXT FOR EVIDENCE!) Once the story retelling cards are placed in order, then students turn and talk to their partner and orally retell the story. If they forget, they can simply glance at the board to get a reminder.
Then independently complete their own retelling Chicka Chicka Boom Boom activity. AGAIN, the board is there for support if they need it! How sweet are these pictures that a teacher sent my way!
Problem and Solution
Throughout the week we discuss various parts of the story. One comprehension strategy we discuss is the problem/solution. Look how well they responded! Since it is the beginning of the year, it is quite normal to get an illustrated response without words in kindergarten. We don't force words because we know through interactive writing and writers workshop, students will soon be adding words to their response page. We model writing, we don't ask students to copy a sentence. Copying sentences will lead students to form a dependence upon us, the teacher. We know students have their own thoughts because we can see their thinking in their writing. We can be patient. Naturally, we would expect some words from our first-grade students.
Some additional reading comprehension strategies used during the week were: Predicting, Inferring, and Comparing & Contrasting.
You can find all the activities above by clicking:
Chicka Chicka Boom Boom: Science, Math, and More
We also love to integrate the book we read in other parts of our day.
We experimented to see if our coconut would float! First, we predicted the outcome.
Then we tested it out!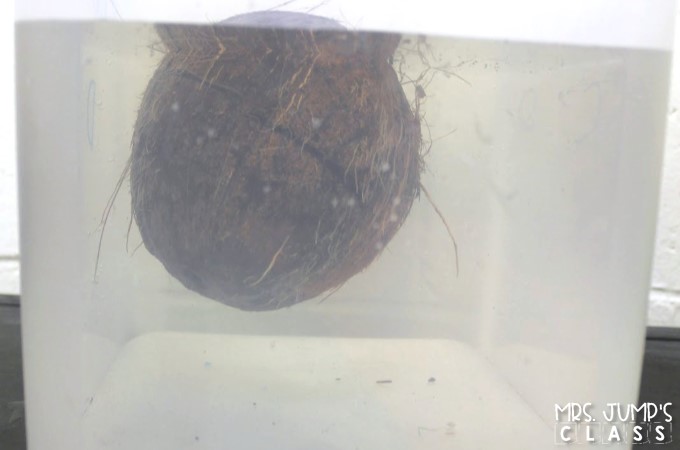 And responded!
We also explored our five senses using a coconut.
We also did a little survey!
We also did a directed drawing. I love how they turned out!
Center activities too!
These are perfect for the back to school. We also have a little more challenging centers for first-grade.
You can find all of these extension activities by clicking:
Chicka Chicka Boom Boom Activities FREE FILE
You can get a copy of this free file at the bottom of this blog post!
Engaging Readers: All Year Long
I hope you love these Chicka Chicka Boom Boom Activities as much as I do. We have found that by engaging our students in activities that take our daily read aloud from a passive activity to an interactive activity, we see tremendous growth in our readers. The bonus? The students LOVE this time of the day. Isn't that the point of school? Teaching the love of learning? I sure think so!
You can find some year-long bundles for the type of activities you see above. When you buy with a bundle you save a lot of money.
Science, Math, and MORE!
Free Chicka Chicka Boom Boom Activity
You can download this free activity by filling out your email in the boxes below. The file will come directly to your email inbox.