This is a Silhouette Cameo and y'all can I just say that I am in LOVE with this machine!  Seriously!
How do I love thee?  Let me count the ways.
1.  It is much smaller than my other machine (you know the one)  and a lot more lightweight.
2.  The program is super easy to use.   My friends will tell you that I am not techy at all!
So if I can use this machine you can bet that it is easy!
3.  NO CARTRIDGES!  Did you hear me?  I'm yelling because I am so stinkin' excited about this part!
I don't have to spend $80.  on a cartridge that has one set of alphabet letters.  This machine lets me use the clipart that is already on my computer.  Did I mention I'm in love??
All I needed for my projects was vinyl and transfer paper.
Here's my machine getting ready to cut the vinyl.
Using transfer paper….
The pink letters didn't show up well enough so I removed it and started over with black.
(SUPER EASY to remove if you want to remove it)
 Here is my finished Tote for Writer's Workshop.  I'm going to use it
to hold all of the supplies I need for my conferring with my kids.
I will just carry it from place to place as I meet with my students.
Pick a stick…. I'm going to add popcorn words on these for the kids to read at a center.
This is my Kiss Your Brain container.
I stopped at Wal-Mart today to buy the kisses and I ate way too many!
Note to self:  STAY OUT of the Kiss Your Brain jar.  These are for the kids NOT you.  🙂
close up….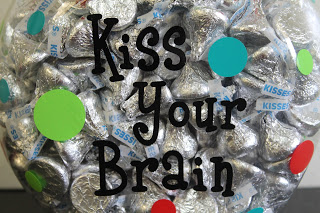 Hand Sanitizer with initials.  I'm going to make these as gifts for the teachers at my school.
Super cute and it will be super easy with my new Cameo.
If you would like to see some other projects for school, you can check them out over at Blog Hoppin. Some of my sweet friends have made some SUPER cute stuff and I'm totally going to steal some of their ideas!
 If you have a Cameo and you want to link up with your project we would love it.
If you want to WIN (Yes, WIN) a Cameo make sure you sign up over there too!
If you don't win… don't worry!  You can get an awesome educator discount.  Click below for more information.
Good Luck!  I hope you win!
P.S.  I will be back tomorrow with pictures of my new teeny, tiny classroom.