We said goodbye to our insect unit. Every year this is one of the favorites so it is hard to say goodbye to those pesky critters and move on.  🙁
We end our insect unit with a class favorite… Build a Bug!  They use candy, marshmallows, and pretzels to build a model of an insect.   Did I mention how much they LOVE this activity?  Here are a few of their creations.  WOW!  My sweeties did such a good job.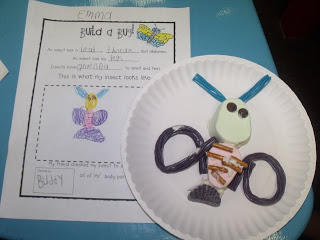 Here are some insect journal prompts that you can use with your little sweeties if you'd like.   🙂
You can download them for free by clicking on the cover.  DISCLAIMER:  This is just a few prompts.  The download doesn't reflect my TPT products.  The prompts are still great to use … this download just doesn't include any bells or whistles.
And totally unrelated.. I was interviewed by Fox News about TPT.  All I could think when I was watching it was OH, MY WORD!  I have become my mother!!!!  🙂  I told the camera guy NO closeups but he didn't listen.  GRRRR!!! Thanks again for supporting me on Teachers Pay Teachers.  I appreciate you guys so much!  You can click on the link below if you want to see the interview.