100th Day of School Activities for kindergarten and first grade. Such a fun celebration! See how we celebrate with math centers, reading, writing, and a fun craft!
Woo-hoo! It's almost the 100th day of school! Are your students getting super excited about celebrating the 100th day? Make it a fun day filled with games, activities, crafts, and snacks! Here are some fun 100th day of school activities for you and your class.
Reading and Math
Wolf wants nothing more than to fatten up Mrs. Chicken so that he can add her to his stew. He brings Mrs. Chicken a lot of yummy food and soon finds out that she isn't eating it, but someone is!  You can find the book on Amazon by clicking:  The Wolf's Chicken Stew.
Play a game to find the chicks from the story! Students find and color the number on their response sheet. Identifying numbers to 100 can be a hard skill for kindergarten, so you could do this whole group or in centers. Whatever works best for your class!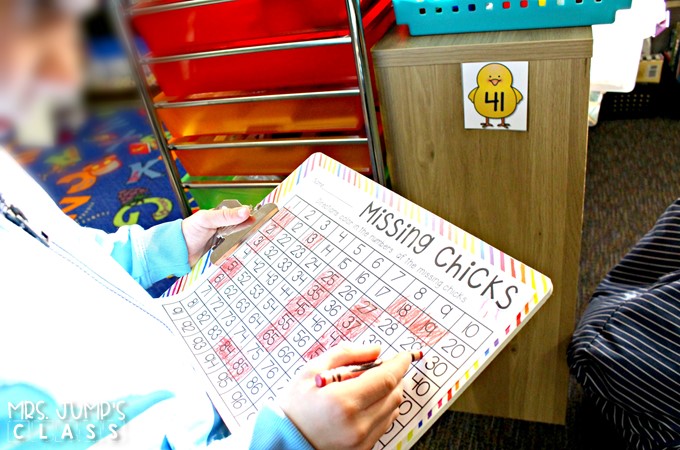 Partner Activities: Centers!
Students race to make $1.00. This is a great 100th day of school activity for kindergarten or first grade. Kindies match the coins and first graders begin thinking about coin value and counting their money throughout the game.
Here, students roll the dice and move their chip from 1 to 100. On your mark, get set, go! This game can be played over and over – they love it so much!
Writing
The 100th day of school is the perfect time to throw in some creative writing. These turn out so cute!
Craft
Oh my! These are adorable! They make a cute bulletin board display, too!
Click here to see all of the activities and patterns for the craft in my 100th Day of School Mini Unit.
FREE file
Do you need a 100th Day of School Parent letter?   No problem!   Simply add your email to the box below and it will be sent to your inbox!