I LOVE this time of year. My little sweeties are becoming independent thinkers and learners who have blossomed into readers and writers AND all of my Favorite units are in the Spring!! Zoo animals, Dinosaurs (my fave), and Insects (my fave), What???!! I can have more than one favorite! 🙂 I spend two weeks on each of these units. There is just something about these topics that get kids super excited about learning! Today we learned all about Giraffes. You can see the cutie patootie giraffe above that we made from my zoo unit.
So… I decided to change up my charts a little bit. We were getting a little bit bored with the Schema charts (although I still had them turn and talk about their schema with a partner before we started because I think this step is so important.).
We are working on listening to a text with purpose and understanding so before I read the nonfiction giraffe books I told them what the topics for our chart were. Type of animal, habitats, diet, and how they adapt to their environment. After we read about giraffes we talked about the information we learned and added it to our chart. We also added an interesting facts section on a piece of regular copy paper because we kept finding cool facts that didn't quite fit the categories on our chart. For example, Giraffes have a long blue tongue that can be as long as a child's arm. ewwww! 🙂
Nonfiction writing about giraffes.
We sang this beautiful song by Debbie Clement. My kids loved the song and the real life pictures
from her book are amazing. LOVE!!!
After we "sang" the book we did a quick directed drawing of a giraffe to add to our anchor chart display.
Whew! We learned a lot today and had so much fun doing it. As many of you know I start my morning routine with a Chit-Chat message. I named it Chit-Chat because we ALWAYS end with a question that requires us to think and then turn and talk with a partner. This type of morning message is a great way to build on oral language, phonics and reading skills. It also incorporates Science or Social Studies because it always a review of the information we learned the day before.
Here's my Chit-Chat message all ready to go for tomorrow morning.
We've been working on the chunky monkey strategy so you can see that I've left out a lot of chunks in the message below.
I don't always give the kids a copy of the message to write with me. I sometimes just have them write on white boards. But when they were leaving today some of them asked me to make them one for tomorrow. So, I'm sharing it with you. You can click on the picture below to download the message.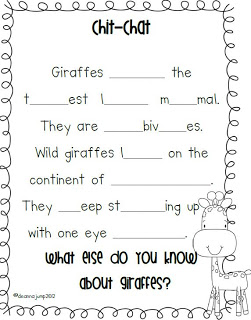 answer key: Giraffes are the tallest land mammal.
They are herbivores.
Wild giraffes live on the continent of Africa.
They sleep standing up with one eye open.
***I've been asked several times to make a Chit Chat resource. I have it on my very long to do list! 🙂
If you'd like to check out my zoo unit on TPT you can click on the picture below.
It is full of patterns to make zoo animals, nonfiction writing, fun poetry ideas and activities, math activities and more!
I'll be back tomorrow with Zebra fun!