Turkey Trouble reading comprehension lesson plans. Responding to literature activities, vocabulary studies, center ideas, and fun crafts!
Turkey Trouble
Turkey Trouble by Wendi Silvano is a great read-aloud for November. Thanksgiving is right around the corner and turkey needs to hide. So, he comes up with an idea!
You and your class will have fun reading and responding to this story! This Engaging Readers unit includes all of the print and teach lesson plans and resources you'll need.
Daily Lesson Plans
During the week, students practice making predictions and retelling the story. Furthermore, a nonfiction book is also included in this unit. Students practice writing their schema and creating their own informational books about turkeys.
Making Predictions
On day 1, introduce the story. After reading a few pages, stop and have students make a prediction. What will turkey do now that he has an idea from Cow? Then, finish reading the story and have students respond to tell what actually happened.
Story Retell
On day 2, we work on retelling the story. There are three different resources available for story retelling!
After a whole-group retell, students can independently complete their own.
We are SUPER excited for our newest addition to the units – digital retell! Simply open the slides in PowerPoint or upload them to Google Drive.
Schema
On day 3, introduce the nonfiction book and work on identifying student schema about turkeys. Afterward, students use their schema and new learning to write informational books about turkeys. This is done on days 4 and 5.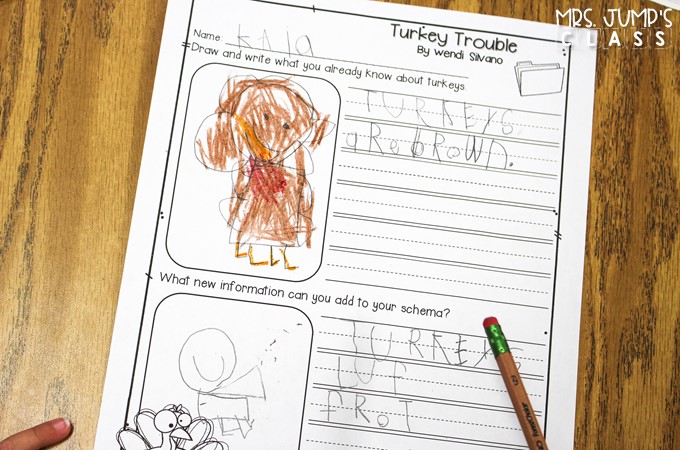 All of the resources for this story are included in this Engaging Readers unit:
Center Activities
For more fun, try out these turkey center activities for math and literacy.
These math and literacy center activities are available here:
Science Activity
Do you have a force and motion science standard? This turkey feather activity is so much fun!
This activity and response sheets are included in our STEM unit:
A Turkey Craft & Directed Drawing
I LOVE directed drawings! They provide students with confidence in their drawing ability. As can be seen, they are super cute, too!
This turkey craft is another idea and just as adorable. Also, it makes a festive bulletin board display!
The craft patterns and drawing directions are also located in the Engaging Readers unit for Turkey Trouble:
Check out some other turkey activity ideas:
📌 CLICK HERE TO SAVE THIS PIN FOR LATER!