Printable files for busy teachers?   You got it!
I know you are busy! Sometimes we reach a time in the year when our planning time is at a premium. Perhaps you are knee-deep in assessments or you have an unexpected absence and you need to create sub plans.  That is when I am thankful for a few printables that I can use in my classroom.  I created these worksheets (eek… sort of a bad word) with those times in mind.
As a practice, I know that worksheets offer the least amount of student engagement, but there are times when I do use them.
Skills Review
These are a great quick review of skills students have already learned.
Additionally, you can do a quick handwriting review!
Morning Work
As students start their morning, they can work on activities independently while you get your students' lunch count, parent notes, and other various tasks completed first thing in the morning.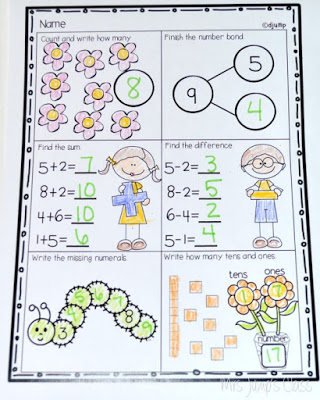 Formative Assessments
These pages can also be used as a quick formative assessment.  You can quickly see which skills your students have mastered and which skills you need to reteach!
Center work
You can also use these No-Prep pages as a center activity.  Just print and you are good to go!
You can see all of my "In a Snap" activities by clicking
HERE.
Wanna try a FREE Sample?