Do you always feel rushed over teaching everything needed during preschool or transitional kindergarten? I'm sure you do! We often only have our students for a few hours each day. While we need to set time aside for snacks, bathroom breaks, and some play time, we also have so much material we want to teach students. Thankfully, there are amazing PreK curriculum offerings that combine all subjects with hands-on, engaging activities!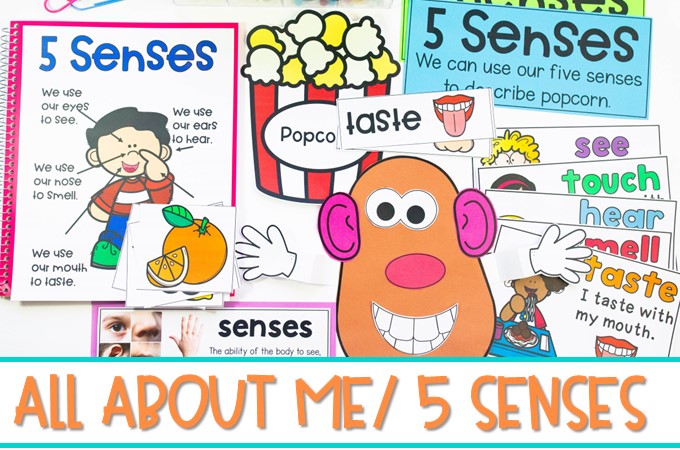 Importance of Senses
Our adorable 4 and 5-year-olds often learn about the world through their senses. Yes, this means they are touching the worms on the playground and smelling things no one else wants to. Honestly, this is part of what makes the age so special! We want to foster this curiosity and excitement within our youngest students for as long as possible. There is so much going on in the world, and our preschoolers should not have to grow up too quickly. This is exactly why incorporating our 5 senses into the PreK curriculum works so well! Students get to have so much fun while learning so much.
Are you looking for an All About Me unit for PreK that includes all subjects? Thankfully, you have come to the perfect product! Students will have a blast while working on many skills, such as oral language, concepts of print, math, and phonics. While doing this, they will work on fine motor skills, exploration, and music.
Do you ever feel our preschoolers have to learn so much content each year? Honestly, they do! However, this curriculum guides and supports students in the most loving way possible. This means they will draw a picture of what makes them unique and form letters and shapes out of play-doh. They will even use a Mr. Potato Head to talk about our 5 senses. Students will have the most precious smiles on their faces while doing this!
Teachers experience some of the greatest joy when they find something students love. As teachers, we want our students to love learning. Luckily, there is a bundle at a HUGE discount! This means a comprehensive curriculum includes phonics, reading, math, science, and social studies. Yes, this is all in ONE amazingly organized product filled with many hands-on activities.
There are 45 weeks of curriculum within this one bundle. Yes, you can take back your planning time with this product while ensuring students are truly learning. For example, they will learn about community helpers in August and progress to penguins and polar bears in January! Every month follows relatable themes while focusing on all subject areas. This includes counting to 5 in August and progressing to 15 in November!
Since preschoolers need to move, all activities keep that in mind. Our young learners will see how their eyes and nose work while exploring with their hands. They will build their name out of play-doh and use construction paper to create a self-portrait. While doing this, they can work on letter sounds, identification, and blending. They will even form play-doh gumballs to put in a gumball machine to work on counting!
A PreK curriculum should be fun, hands-on, and engaging. Students need to see how great school is. However, I also know how much they need to learn. There is so much to work on from patterns to 2D and 3D shapes. This is exactly why the All About Me/5 Senses PreK Curriculum BUNDLE is perfect! Students will love learning so many essential skills.
If you do not want to miss any of the upcoming lessons, join my email list to be notified of all the interactive lessons coming up! By joining the email list, you will also receive freebies for blog exclusive subscribers!