Ahoy There Me Hearties!  Many of you have told me that you plan to have a pirate themed classroom this year.  This is such a fun theme!  This week I will be posting some of my ideas and printables to help you get started with this theme.
I use P.I.R.A.T.E. binders in my classroom to help keep us organized. Each child gets a 1″ notebook.
This is the cover.  I laminate it with my Scotch laminator (so that I can reuse them for several years) and slide it in the front pocket of the binder.   I print out labels with each child's name and put them on the spine of the binder.  Click on the cover to download it.
Inside the binder I put the agendas that our school requires us to use,  a zippered pouch for when they need to bring money and several copies of the following notes.  I run the absence notes on turquoise copy paper and I run the change in transportation notes on a different colored paper.   When a parent fills out one of the notes they take it out of the three ring section and place it in the front pocket which is labeled  Notes from School and Home.  You can click on the notes to download them.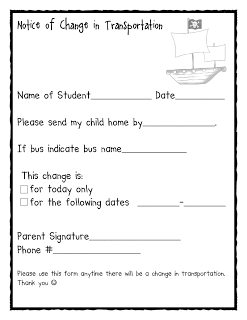 Sorry y'all I know this isn't much!  Consider it a teaser.  This is a busy holiday weekend so this is all I have time to post tonight.  AAAAARRRRRGH!  🙂