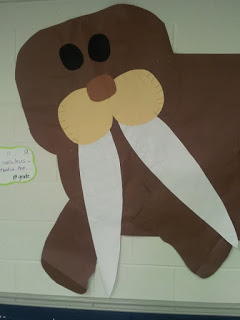 How big is a walrus? We read that a walrus can grow to be up to 12 feet long and that his tusks can be 3 feet long.
The kids weren't quite as impressed by this info. as I was so I decided that we should make a life size walrus so that they could see just how BIG that actually is.
The walrus was so big that we had to hang him in the lunchroom.
In the middle of the walrus is all of the information that we learned about walruses.
As I was uploading the pictures I realized that on one of the post it notes I wrote their instead of there.
GASP!  I hope no one notices it before I can get to school and change it.  That's what happens when you are trying to write really fast so that the littles don't start swinging from the light fixtures! 😉
And now I'm realizing that I must be really tired because their is in fact correct.
Sorry y'all!
How big is a walrus? Here's  a picture of how we measured out 12 feet.
We used a yard stick to measure each kid and then we figured out which kids we could add together to equal the length of a walrus.
Excuse the terrible pictures.  I forgot my camera today and my phone doesn't quite do the trick!