Welcome back to the second week of our book study which covers  the 50 illustration techniques that demonstrate "Good Writing" I have to give a shout out to Deedee Wills for working so hard to get this book study up and running!
Katie Wood Ray does suggest book titles, but merely as a way to introduce these illustration techniques.  She recommends searching your current book collection and reading these books with a new eye… the eye of an illustrator/writer.
Each illustration technique is organized in a different way.
1. Something to Notice-Names the illustrative technique.
2. Illustrative Example-Tells you how this looks in a picture book.
3. An Understanding for Young Writers and Illustrators-Involves the kind of thinking you might do with the technique.
4. In a Teacher's Voice: An Idea for Trying it Out-This helps you think about how you might invite your students to try it out.
5. A Writing Connection-This makes the composing connection between writing and illustrating.
Chapter 7:  Ideas and Content
Katie writes, "Illustrators have to decide what they are going to picture in the picture, writers have to decide what to write about." (p.96).  Essentially, which ideas and content should be included and what should be left out.
This section has 12 illustrative techniques.  Here are just a few.
Henry's Freedom Box is written by Ellen Levine.  This is a story of a young boy who escapes slavery by hiding in a wooden crate.  It is beautifully illustrated by Kadir Nelson
Technique #4:  "An illustration may show two sides of a physical space simultaneously: inside and outside; above and below."
When discussing these types of illustrations it is important to discuss why both sides of the same space were illustrated.  In this picture you can see Henry the crate while making his way to freedom.  You get the sense of how close to detection and danger he really is.
 The pictures in this book are BEAUTIFUL!
Scarecrow is written book by Cynthia Rylant. It is illustrated by Lauren Stringer.
This is one of my favorite books y'all!
 Technique #1:   "Illustrations have distance perspective:  a central image may be pictured as far away, close up, or any distance in between."
The first page of this book reads, "His hat is borrowed, his suit is borrowed, his hands are borrowed, even his head is borrowed.  And his eyes probably came out of someone's drawer."
In the next illustration, you can see the scarecrow as a tiny figure and  he is difficult to see. The setting is more prominent, but as a reader you REALLY want to see what he looks like.
 The following page offers a clear picture of him.
 Technique #2:  "Illustrations have positioning perspectives: a central image may be pictured from the front, the back, the side, above, or below."Writers use words to create their scenes and illustrators use pictures.  The text reads, "Yes, birds, Crows, crackles, starlings, jays.  Ask them how they feel about a scarecrow, and they'll say, 'Lovely'.  They ignore the pie-pan hands and the button eyes and see instead the scarecrow's best gift: his gentleness."
This illustration supports the idea that the scarecrow and the birds are friends… doesn't it look like they are talking?
Link up with Mrs. Wills and you could win.
Which reminds me!  I need to pick a winner for the $25.  Gift certificate that I blogged about last week.
I will announce the winner July 5th!  🙂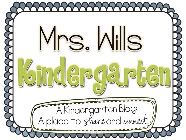 –