We are so excited about the feedback that we are getting about these units.  We designed them around the same type of format as our Math Units and Writing Units and  many teachers have told us that we've cut their planning time WAY down, that their kids are really mastering the standards and developing a love for reading and writing and we are beyond thrilled!
That's what it's all about.  We developed our Guiding Readers Units,  Math Units and Writing Units with these goals in  mind: We want to save you (and us) planning time so that you can spend that time with your family doing the things that you love to do.
We want kids to LOVE learning through tasks that aren't simply JUST paper and pencil tasks.
Our units involve lots of hands on activities and  opportunities for students to discuss what they're learning.   Best of  all…. The planning has been done for you!
Here are some examples of the planning pages.
Pictures 1 & 2 cover the lessons for the whole month.
Picture 3 is the list of questions and discussion topics that coordinate with the book.
Picture 4 is one of the Daily Lesson Plans.
Pamela who blogs over at
Teaching4Real
 sent me these pictures of her students working on some of the activities from
The Snowy Day
 story which is in our January unit.  We included the pocket chart pieces in color but she printed them in gray scale to save ink.
Picture 1 Shows the Retelling pieces from our unit.  Her class helped her sort the events in the order that they occurred so that they could use them to retell the story.
Picture 2 Shows the independent retelling from one of her students.
Picture 3 This little sweetie is checking her independent work to see if it is correct.  How cute is she?
Here are a few more pics from various stories and units.
This little guy is sorting picture cards from  The Snowmen at Night  story to determine which ones show Details in the text and Details not in the text.
Once he sorts them he can go back into the text and check his answers.
Picture one shows a lesson from The Snowy Day Day 1.
We did a lesson on visualizing to help us better understand the story.
After discussing what it means to visualize the students are given the opportunity to draw and write.
As you can see from pictures 3 and 4 everyone's writing is different because after the lesson and the discussion the students are given the opportunity to record their own thinking and learning.
In this picture the student drew his image of Peter making a snow angel and he wrote,
Peter looked out the window and he saw snow.
After breakfast he went outside.
Picture two shows a lesson from The Snowy Day Day 3.
We did a lesson on making text to self connections to help us better understand the story.
The writing says,  Peter liked to make a snowman.  I like to play a snowball fight.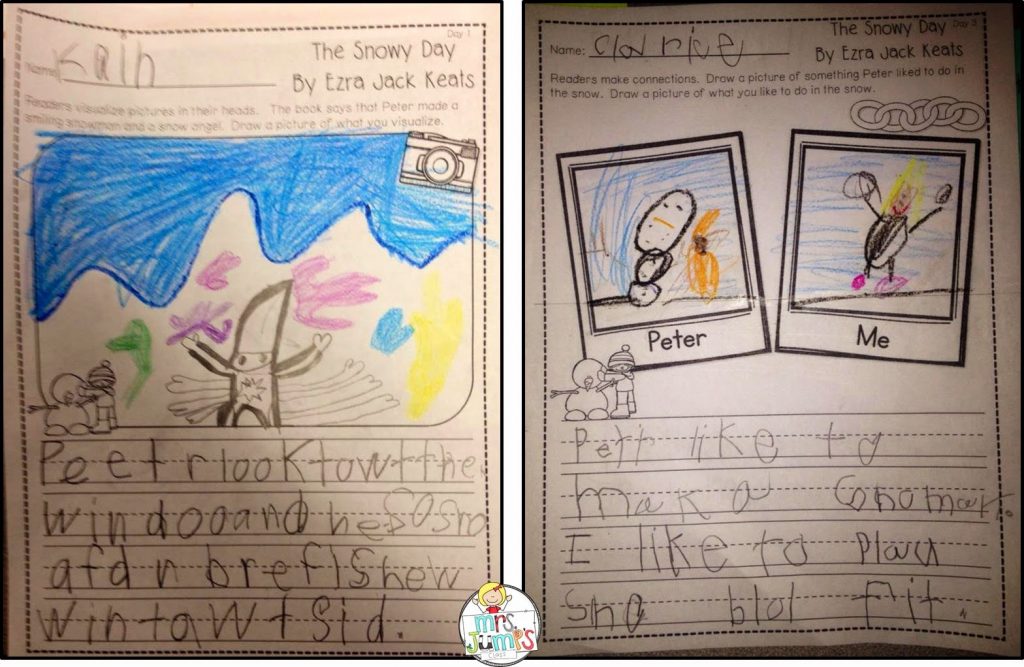 Picture 3 (visualizing lesson) below says, Peter liked to play in the snow.  Peter liked to build a snowman.
Picture 4 (making connections lesson) says, Peter likes to play in the snow and he likes to hit a tree.
I like to build a snowman.
Each unit also includes at least one informational text study.
This is from the story, Ice Bear by Nicola Davies
Below is an example from our February unit.
The story is Hooway for Wodney Wat
Picture 1 is from Day 1
The example shows a lesson on visualizing.
The writing says,  Camilla was trying to wake up the leaf.
Picture 2 Day 5
The example is from our lesson on writing an opinion and stating why.
The question was, Do you think it was okay for the other students to make fun of Wodney? Why or Why not?
The students wrote,  No, it is not okay when they bullied him because they hurt his feelings.
These units cover all of the standards for Reading Literature and Informational Text
and they also cover the Reading Foundational Skills.
In the January units we covered long o spelling patterns and did some long o and short o spelling sorts.  Because the lessons are scaffolded the students are  able to read and write words with these spelling patterns.
Here's an example of the phonics charts for January.
Pictures below….
sorting words, making words, reading words.
You can view our units and read the feedback by clicking on the pictures below.
Happy Reading!!!
SaveSave