This week I had 13 of my sweet friends staying at my house for the Teachers Pay Teachers conference, and we had a blast!!  Some of my friends went home on Friday morning so the rest of us decided to hit the Dollar Tree to see what we could find!!   We decided to do our very first Facebook live video and share what we found.  Many of you asked us to do a follow-up blog post so you could grab the pictures of our ideas, so we decided to do a blog hop. Be sure and visit all five blogs to see all 15 of the ideas!
Here are the ideas that I shared during the video:
Hungry Shark Missing Addends Game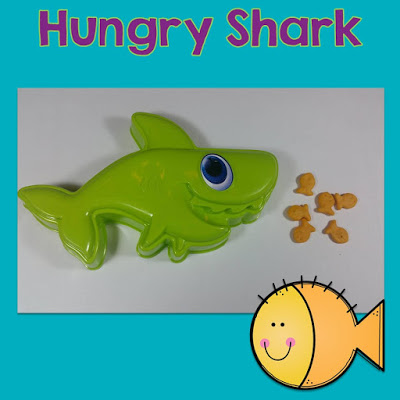 Materials Needed: Plastic shark sand toy, goldfish crackers
Here's how you play:
The students will play the game with a partner.

Determine what number your group of students will be working with and have them count out that many goldfish and say the number.  "SIX"

Player one will hide his or her eyes while player two has the shark "eat" some of the fish.

Player two will open his or her eyes and try to determine the missing addend.

They must frame their answer like this, _____ and _____ is 6.  So for example, if player one had the shark eat three fish it would sound like this,  "3 and 3 is 6.

Have the players switch roles and keep playing.
Materials Needed: Plastic fish sand toy, gummy worms
Game is played the same as Hungry Shark
Materials Needed: Coconut bra (use just one side), gummy bears
Game is played the same as Hungry Shark
Five Little Fishies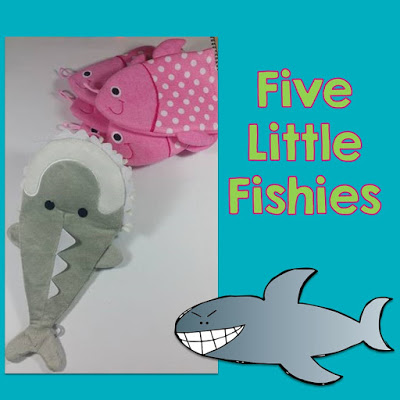 Materials Needed: five fish puppets (bath mitts from the baby section), shark bath mitt (this one is from Target)
Choose five students to be fish and one student to be the shark
The students will stand in a line as the class does the Five Little Fishies poem.  The children will sit down once their fish gets chomped.
As a class state the equation, (for example, 5-1 is 4) each time a fish is chomped.
When you first start subtraction, you may only want to work on ONE LESS, so the shark would only eat one fish at a time.  Once your students have mastered one less you can let the shark chomp more than one at a time.
Flash Card Holder
Materials Needed: plastic cutting board from the kitchen section, drill, metal ring, flashcards
This makes a great holder for your flashcards that you use for literacy and math warm up.
Just add your cards and you are all set!  I've included the
ten frame cards
and a
template
so that you can make your own cards.