I am happy to report that I just started my second week of school with students and I have the cutest group of kids to love on each day. It's so great to be back in the classroom this year! I will share more about my new classroom later, but today I wanted to share the fun unit that I did with my students last week.
As you probably know, student engagement is very important to me. In today's world, getting students excited about learning is the key to success and motivation in the classroom. I am happy to say that I have teamed up with Holly from
Mrs. Ehle's Kindergarten Connection
to bring you a series of engaging lessons that we have named: Set the Stage to Engage.
Last week, Holly and I were both able to put our Cookie Detective unit to good use. We transformed our classrooms into Detective Agency Headquarters and prepared for a full day of activities and learning for our students.
Very Bright Students (VBS) Detective Agency Headquarters
Who took the cookies from the cookie jar? It looks like they left behind a ffingerprint Join our Very Bright Student Detective Agency as we solve the case!
Our student detectives found math problems written on balloons. Once they solved the problems, the balloon was popped and clues were found inside! We discovered that our three suspects were Mr. Dingess, Mrs. Claire, and Dr. Royal!
We learned that there are three types of finger prints; whorl, arch, and loop. The finger print we found on our jar is a whorl print.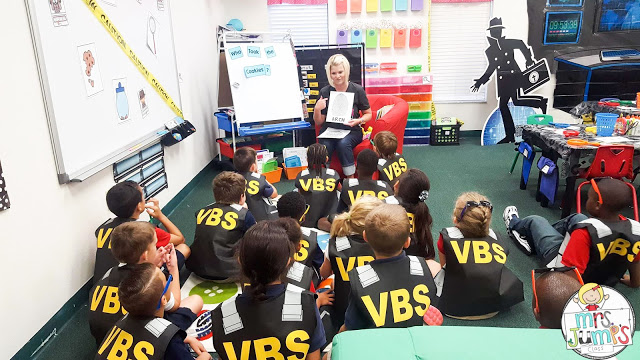 Students analyzed the finger print found on our jar. They then compared it to finger prints taken from our three suspects. We discovered that Dr. Royal's finger print matched the one we found on the cookie jar!
Our Very Bright Student Detectives used their math and phonics skills as they worked through our detective agency cases.
We confronted Dr. Royal with our evidence. He admitted that he took our cookies, but only because we left the lid off and he thought they were stale! He explained that it is never okay to steal and brought us brand new cookies!
Here's a peek at all that's included with this unit:
*The Case of the Missing Cookies
Set Up, Directions & Materials
*Solving the Mystery Activity #1:
*Who Took the Cookies from the Cookie Jar Class Game & "Who Took the Cookies?" Poem
*Solving the Mystery Activity #2:
Search for the Great Cookie Thief – Following the Clues!
*Solving the Mystery Activity #3:
Balloon Blasters/Finding the Suspects
*Solving the Mystery Activity #4:
Fingerprint Science & Solving the Mystery
*Writing Template to draw & write about the learning fun
*Cookie Poem in three different formats pocket chart version, single page version, and poetry journal version
*Cookie Detective Craft with patterns and directions
*Literacy & Math Centers for kindergarten and first grade.
Color and black and white versions available
This unit is super fun, filled with learning and it's engaging!