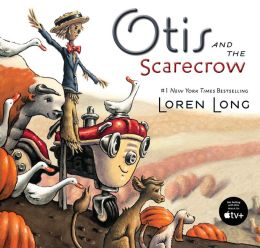 Have you met Otis?  He is an adorable little tractor and your kids will love him!
In this series of books, Loren Long does a beautiful job of showing the students what it means to be a friend.
Otis the tractor lives on a farm and the farmer has just introduced someone new… a scarecrow to shoo away the crows.  Otis and the animals go out to greet the scarecrow with their friendly smiles, but the scarecrow doesn't return the smile and his frown never leaves his face.  Eventually everyone stops trying to be friends with the scarecrow and they just leave him alone.
Then one day, when it is cold and rainy Otis and the animals snuggle close and play Otis's favorite game; the quiet game.  It's hard for the animals to sit still so soon they are laughing and giggling and basking in the warmth of their friendship.  During this time Otis looks out and sees the scarecrow standing all alone and he realizes that sometimes you have to be the one to reach out and be a friend no matter what.  So he and the animals go out into the field and snuggle close with the scarecrow.
This is a wonderful book about compassion and doing what's right.  The perfect fall book and a springboard for character lessons in the classroom.